Waited to the last minute to shop this holiday season?
Get in line.
"Our data shows that when Christmas Eve falls on a Friday, as it does this year, that day is even more crazed than usual," said Michael Manchisi, senior vice president of MasterCard International. "If you wait ... to do your shopping this year, you'll need a lot of patience."
With today serving as the official Christmas holiday for many businesses, Lawrence stores are bracing -- and hoping -- for a rush of off-work and otherwise opportunistic customers eager to spend their money on last-minute gifts.
Count Wayne Osness and his team of merry shoppers among them.
Osness and his four sons-in-law -- Stan Thompson, Rod Peck, Mark Shipley and Owen Buckley -- already have scheduled a noon lunch, to be followed by two, three, maybe four hours of frenzied commerce to satisfy the Christmas-morning wishes of their respective wives.
"We use it as a boys' day out," said Osness, who's led the last-minute team-shopping trek for the past 10 years. "It's festive, people are in a good mood and the clerks are happy.
"Maybe this time it will be different, but over the years it's been very pleasant."
The Osness clan certainly will have company.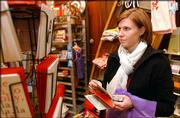 MasterCard expects the busiest time for shoppers to stretch from 2 p.m. to 3 p.m. today. And the St. Louis-based company knows a thing or two about holiday shopping.
During each of the two Saturdays leading up to Christmas, the company typically handles 33 million transactions -- or about a million more than the Friday after Thanksgiving, generally regarded as the busiest shopping day of the year.
Joe Flannery knows all about the Christmastime crunch.
The president of Weaver's department store in downtown Lawrence sees the evidence each time his clerks swipe a card.
"The closer you get to Christmas, the credit-card lines, nationally, slow down," Flannery said. "It's amazing to watch -- it's only a few seconds, but we sure notice it."
And yes, he acknowledges, the spending is good to see.
Flannery said that his store, 901 Mass., was seeing plenty of business these days. He expects sales to be up between 4.5 percent and 5 percent compared with this time last year, the same growth rate expected among retailers nationwide.
Christmas Eve, especially, is a festive day at Weaver's -- both because of its place among the store's top 10 sales days of the year, and the spirit that flows through employees, shoppers and even passersby.
"It's amazing how many people intentionally do a lot of their shopping on Christmas Eve," Flannery said. "It's always a great day, and being on a Friday it should be even better."
Copyright 2018 The Lawrence Journal-World. All rights reserved. This material may not be published, broadcast, rewritten or redistributed. We strive to uphold our values for every story published.