Craig Penzler knew when people started talking about the need for a new library more than a year ago the solution would require thinking outside the box.
"We knew that we needed more than just a book depository," said Penzler, chairman of the Lawrence Public Library Board and a partner in Lawrence-based GLPM Architects. "We knew that we shouldn't be striving to create a new library but really to create a new educational experience and a new destination."
Now Penzler knows something else. It probably will take an entire downtown city block to get the job done.
With that in mind, the library's New Directions Task Force has selected three downtown sites as a possible home for a new library:
The existing site in the 700 block of Vermont Street.
The 800 block of New Hampshire Street.
The 1000 block of New Hampshire Street.
At Tuesday's Lawrence City Commission meeting, library officials will ask commissioners to allow the group to use as much as $200,000 in funds set aside for library expansion. The money would be used to hire a consultant to study the three locations.
If approved, Penzler said it would be the largest step yet for a project that will be about much more than creating a quiet place to read.
"It essentially will be the biggest impact to downtown in recent history," Penzler said.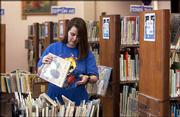 Penzler and Bruce Flanders, the library's director, stressed that each proposed location was still in the concept stage. In other words, no cost estimates have been developed and negotiations with existing property owners haven't begun.
Here's a look:
Existing site
The current 45,000 square foot library, built in 1972, would remain at 707 Vt. But officials would add at least another 45,000 square feet by building out into the parking lot immediately south of the building.
The library's parking needs would be addressed by building a new 500- to 600-car garage on the east side of Vermont Street, roughly on the site of the Southwestern Bell/Lawrence Chamber of Commerce building and Mojo's restaurant.
The two existing city parking lots on both ends of that block could be converted by private developers for commercial uses. Library officials are looking for a public-private partnership to help with financing of a project. If private developers are involved, various methods could be used that would allow private developers to pay for some project costs associated with parking, streets or utilities.
There's even talk of approaching the U.S. Postal Service to determine if it would consider moving its main post office facility to another location. That would open up the current post office site, 645 Vt., for retail or a residential loft-style development. A smaller post office location would be incorporated into the library development.
Other possibilities include lowering Kentucky Street to allow for a pedestrian bridge to be built across the street to accommodate people walking from the new parking garage to the city's swimming pool.
800 block of New Hampshire
With this scenario, a new 90,000- to 100,000-square-foot building would stretch along the entire east side of New Hampshire Street, from Eight to Ninth streets. The project would involve purchasing the Aquila natural gas building and the property occupied by Midwest Graphics.
Library officials estimate that existing parking in the area would be enough to meet library demands. There's a city-owned short term parking lot on the west side of New Hampshire Street and a long-term city parking lot directly east of the site. The library site also is just one block from the city's existing 500-space parking garage in the 900 block of New Hampshire Street.
To get private developers involved, the site could be expanded to encompass several office buildings, including the Charlton-Manley Insurance building and Mize, Houser & Co. building that are just east of New Hampshire Street. Those buildings could be redeveloped for new retail or residential uses.
1000 block of New Hampshire
A likely 4-level, 90,000- to 100,000-square-foot library would be built on the site of the former Allen Press production plant. The Allen Press property stretches along the entire length of 11th Street from Massachusetts to New Hampshire streets.
The Allen Press property also includes surface parking lots on the east side of New Hampshire Street. Those lots could remain or be converted into small-scale retail development. Library officials aren't certain whether the site would require a new parking garage. Even though the site is just a block away from the city's new parking garage, Penzler said there is concern the area already has a parking shortage because of its proximity to the Douglas County Courthouse.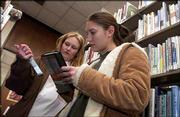 If a new parking garage was needed, the site could be expanded to include several buildings on the west side of New Hampshire Street, including the Scotch Fabric Care building and the offices of GLPM Architects.
On the inside
But Flanders doesn't want discussion of possible sites to cause residents to forget about what will be inside the building. He said a larger building was needed because the population of the city had doubled since the current library was constructed in 1972.
The downtown library has more than 400,000 visitors a year and houses more than 270,000 items. And Flanders said the library was dangerously close to having to store some books at an off-site facility, which would mean patrons would have to wait from 24 to 48 hours to check out some materials.
"It gets to the point that if you keep trying to put 10 pounds of sand into a five-pound sack, it will spill over, or else you quit buying sand," he said.
But any new project would be about more than adding space.
"I think the first thing people would notice is that the energy level would be pumped up quite a bit," Flanders said of a new facility.
The plan would be to place an "extraordinary" amount of emphasis on the children's areas of the library. Many new libraries have children's areas that include not only books and tapes but feature a special attraction like an aquarium or dinosaur exhibit.
"It would almost be like a combination of a children's museum and a library," Flanders said.
In addition to expanded children and young adult areas, Flanders said there would be a major upgrade in technology. He said a good guidepost is that Topeka's library has 200 computers wired for Internet access. The Lawrence library has 30.
"I would consider a 10-fold increase in computer space a bare minimum," Flanders said. "And every inch of the building would be set up for wireless access so that people can bring in their laptops to use."
Penzler said he also would like to see the technology expanded to include a teleconferencing and business resource center, along with greatly expanded community meeting space.
Flanders said a new library also would have more quiet space areas, "where people can find a quiet place to read a book or plug in their laptops and get away from the world."
Busting out
At this point, library officials have more ideas than money. Penzler and Flanders said cost estimates were one of many questions they want a consultant to answer.
But they said they wouldn't try to convince anyone that a project could be done inexpensively.
Penzler said he expected the project would cost enough that city commissioners would choose to put the issue to a public vote. He said he hoped a consultant would be able to study the sites during 2005 and that a serious discussion on financing could happen in 2006. The soonest a new library could open would be 2008, Penzler said.
City Commissioner David Schauner said he would not be surprised to hear a library proposal with a price tag in the $20 million range. But a seemingly high price should not deter the community from discussing the idea, he said.
"The devil is always in the details," Schauner said. "But this type of infrastructure improvement in downtown has such great potential. I think it really should be looked at as an investment rather than a cost."
Penzler agreed, saying library officials are looking for ways a library project could be a catalyst for more retail and residential development downtown.
"I don't think downtown has learned how to expand its retail successfully yet," he said. "It has not yet reached out on New Hampshire or Vermont streets like it should. This project would be so big in scale and energy that it might give downtown the opportunity to bust out."
Copyright 2018 The Lawrence Journal-World. All rights reserved. This material may not be published, broadcast, rewritten or redistributed. We strive to uphold our values for every story published.