Washington — These are, in many ways, good times for the venerable Washington singer and pianist Shirley Horn. Last month, the National Endowment for the Arts named Horn, 70, a Jazz Master, recognizing her lifelong contributions to the form, alongside Artie Shaw, Kenny Burrell, Jimmy Smith and George Wein. The $25,000 fellowship was a very sweet bonus.
Last week, the Kennedy Center hosted "A Tribute to Shirley Horn," featuring vocalists Sheila Jordan, Kevin Mahogany and Lizz Wright, pianist Kenny Barron, longtime pal and tenor saxophonist Buck Hill and other musical guests.
These past few years have also, however, been rough ones for Horn. In 2001, complications from diabetes led to the amputation of her right foot, the one that she used on the piano's expression pedal for sustain or quiet, elements crucial to the mood of Horn's glacially paced ballads. Subsequently, Horn lost much of her right leg, forcing her to abandon the piano bench for the first time in more than six decades, and altering the unique balance of singing and playing that many consider the best self-contained sound in jazz.
"She has something that transcends genres and times and all the rules and definitions of music, and that's her ability to be so tender and patient with a lyric," says Wright, one of many young singers influenced by Horn's understated approach. "There's very few people who can make music out of not playing for a moment. Shirley makes the music come alive because she lets it breathe."
Horn has been fitted with a prosthesis, and there are efforts underway to create a flexible foot that will allow her to return to the keyboard. In the interim, Horn has kept working, performing one or two concerts a month, backed by pianist George Mesterhazy. But she had to rethink her approach: For the first time, Horn held a microphone rather than singing into one planted at the piano. Where once she could become lost in her reveries, Horn now had to focus outward, facing the audience, not just the music.
"I don't believe in 'I can't do it,'" Horn says, seated in what she calls her "Cadillac" (a motorized wheelchair) in the one-level red-brick house in Upper Marlboro, Md., that she and Shep Deering, her husband of 49 years, moved into recently when the steps of her longtime home in Northeast Washington proved too challenging. A fancier "Jaguar," the chair Horn uses in concert, is parked nearby, but it's been acting up and may need repairs. Her own repairs, Horn suggests, have already been made, and they're only partly physical.
"I'm not a quitter, I'm a fighter," she says quietly. Actually she does everything quietly, deliberately; there's no separation between her art and life. "I've tried to keep things as level as possible through this whole thing -- I'm cool. I know what I have to do: I'm never going to give up the piano, I'm never going to stop singing till God says, 'I called your number.' I didn't panic, because I have so much love for what I do."
So do others, of course: Trophies and plaques of official recognition crowd several shelves by the front door. And the legion of Shirley Horn fans includes jazz musicians and pop singers alike. Not long ago, Barbra Streisand praised Horn to Oprah Winfrey as "a wonderful musician who understands the power of intimacy and how to convey the deepest meaning in a song. When Shirley whispers a lyric, she speaks volumes."
Says pianist Marian McPartland, whose National Public Radio show, "Piano Jazz," has featured Horn several times: "Everything she does, she does with such great taste and romance. To sit back and listen to something as serene as Shirley is really a joy."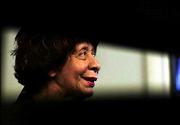 It wasn't just the foot problem, which had caused Horn great pain for many years. She's also had to deal with arthritis and undergo chemotherapy for breast cancer. In 2001, cancer claimed Charles Ables, Horn's bassist for 33 years and the rock-solid foundation of her trio, along with Steve Williams, her drummer for 25 years.
"When I lost the foot and the leg, I didn't cry about it. I cried because Charles died," Horn says. "Charles and Steve -- the three of us, it's almost like sometimes it was really one."
All those losses and tribulations inform Horn's most recent album, "May the Music Never End," the first in 25 years on which she is not playing piano and the first time in three decades where she isn't playing with Ables (Ed Howard is her current bassist). Mesterhazy is heard on nine of the album's 11 selections. One of Horn's own idols and influences, Ahmad Jamal, accompanies her on the other two, a measure of the respect Horn has among musicians: It's the only time in Jamal's lengthy career he has ever accompanied a vocalist.
Horn has resumed performing since the CD was released last year and hopes to do a fair amount of it when she records a live album next month at New York's Au Bar.
"I have to do it," she declares. "I think when I was born, it's like God said, 'Music!' and that was it. All my life, that's all I knew. It's in me, it's jammed up, and it's got to come out."
Copyright 2018 The Lawrence Journal-World. All rights reserved. This material may not be published, broadcast, rewritten or redistributed. We strive to uphold our values for every story published.