In last week's "Behind the Lens," I wrote about choosing the right megapixel sized digital camera for your needs and how to select the proper digital memory card for your camera.
After taking your photographs, you'll be ready to get the images into print.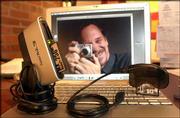 The simplest way to accomplish this is to take the memory card to a local camera store or photo processing shop and have them transfer the images from the card to their computer. Most photo-processing stores should be able to do this for you. What they are doing is making digital copies of your images from which they can make the prints. You get your memory card back, and until you reformat or erase the information off the card, you will still have the original digital images.
For instance, if you want 4-by-6-inch prints of all images on your card, the cost per print will be about 35 cents. If you need to pick and choose only certain images from the card, the cost per 4-by-6 print will be about 50 cents each. You can make any size enlargement from your image files, but be aware that the quality will decrease as the enlargement size increases. And this holds true no matter your camera's megapixel size.
To preserve and archive your digital files, you also can pay to have a CD burned. In the same way you used to file negatives in shoe boxes at home, you now have the option of storing inexpensive CDs full of digital photo memories in those shoe boxes.
If you own a computer and would like to archive and print your own digital images, you will need a device called a card reader. It is a small, inexpensive piece of equipment that plugs into your computer via a Firewire or USB port. Just make sure you get the kind of reader that accepts your camera's memory card type. It does not have to be the same brand name as your card, just the same type of card. For example, at the Journal-World, our staff uses both Lexar and SanDisk brand CompactFlash memory cards. It only matters that we have a CompactFlash-compatible card reader. The brand name is not important. Also, at work I use a multi-slot card reader that accepts four different types of memory cards. If you're like me and have more than one digital camera, this is a good option.
After you load your memory card into the card reader, an icon will show up on your computer screen, usually displaying your camera's brand name, such as Nikon D1H. Once you have copied your digital images onto your computer, you can create your own computer slide shows, e-mail photos to family and friends, burn them onto a CD or make your own prints.
In my next "Behind the Lens," I'll write about viewing your photographs and making prints from your own computer.
Copyright 2018 The Lawrence Journal-World. All rights reserved. This material may not be published, broadcast, rewritten or redistributed. We strive to uphold our values for every story published.