Photographer: Thad Allender
Camera: Nikon D1X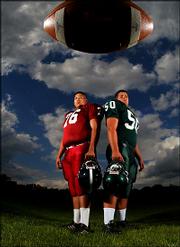 Lens: 16mm fisheye
Shutter: 1/250
Aperture: f16
ISO: 160
If you want to emphasize clouds in a photograph, it's important to remember two things.
First, underexpose just a tad to help saturate the sky. Second, add a little contrast while taking the photograph. This can be accomplished in many ways, but I'll explain the methods I use while shooting with my digital camera, as well as when shooting with 35mm black-and-white film.
On a digital camera, I change the image setting from the default setting of "normal" to "contrast." When shooting with a film camera using black-and-white film, try using a red or orange filter.
For the photo at right, I calculated my exposure by pointing my camera lens to the sky and slightly underexposing. I then placed two lights about 6 feet on either side of the camera to add light to the two football players, while keeping my camera settings for the clouds.
Copyright 2018 The Lawrence Journal-World. All rights reserved. This material may not be published, broadcast, rewritten or redistributed. We strive to uphold our values for every story published.