The sound of gunshots dominated the woods Saturday near Lone Star Lake, but the weapons fired were not your modern high-powered rifles, shotguns or pistols.
Gunmen dressed in the mountain man garb of fur traders and trappers fired replicas of long guns and pistols from the 1830s and 1840s with the aid of black gunpowder.
"It's more of a challenge," Lawrence resident Mike Hegeman said about shooting with black powder weapons. "You load it, and you get one shot. You better make it count."
Hegeman and more than 40 other black powder gun enthusiasts gathered on the grounds of the Lawrence Fraternal Order of Police Lodge for the second annual Washington Creek Muzzleloaders Rendezvous. The Washington Creek group has about 20 Douglas County-area members, and the remainder came from similar groups throughout Kansas and other Midwest states, Hegeman said.
The rendezvous featured several target-shooting contests, including a walk through the woods during which the gunmen shot at silhouettes of animals. Tomahawk- and knife-throwing contests also were conducted.
"It's just a lot of fun, and the whole family can enjoy it," said Joe Johnston, a retired sheriff's officer who founded the Washington Creek group and spearheaded the organization of the rendezvous.
The weapons are anything but rapid fire, but that's part of the enjoyment of shooting with black powder, said Bob McPherson, Berryton. The shooter has to load the gun with powder and poke the lead ball into the barrel.
"Someone with experience can fire about twice a minute," said McPherson, who started shooting the weapons about six years ago.
The mountain men re-enactors set up camps similar to the type that would have been used in the early 19th century. If they strive to be accurate, all of what they use at the campsite, such as wooden tables and chairs or metal rods, is handmade.
"The majority of what you see was made by somebody" said Bill Rogers, of Florence, a superintendent for an oil drilling and production company. "You can't buy this stuff at Wal-Mart."
Some of the mountain men bring their wives and children, who also dress for the period. Darlene Landwehr, Williamsburg, has been traveling with her husband, Dennis Landwehr, to such events for several years. She displays and sells beads, some of which are up to 140 years old, she said. Others she has made.
Bart Nash began attending black powder gatherings about two years ago and dressing like an American Indian to emphasize his own heritage.
"I decided that if I'm going to dress up like an Indian -- I am an Indian -- and play these silly children's games, then I might as well look the part," Nash said with a laugh.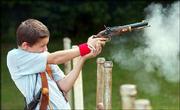 The shooting competition was expected to continue this morning. The Muzzleloaders also have an annual shooting competition for youths in the spring.
Copyright 2018 The Lawrence Journal-World. All rights reserved. This material may not be published, broadcast, rewritten or redistributed. We strive to uphold our values for every story published.