Trinidad, Colo. — Americans should do more to protect themselves against terrorism by setting up neighborhood watch groups, Democratic presidential candidate John Kerry says.
"If we do that to protect ourselves against vandals or a burglary, why would we not do it to protect ourselves against a terrorist?" Kerry asked during a Saturday interview with reporters aboard his campaign train.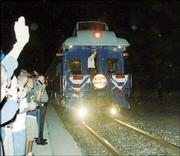 Kerry, who was joined on the train by his running mate, John Edwards, said that the current system of nationwide, color-coded alerts was confusing.
He also said that he would continue research on a program to develop weapons to shoot down incoming missiles if he is elected.
"I believe in pursuing and researching and developing missile defense. I've supported missile defense research," Kerry said. But "I don't believe in rapid deployment of a system that hasn't been adequately tested. I will continue missile-defense research, I will continue missile-defense work, because it's important for the country."
The Democrats also criticized the Bush environmental record.
"I think they have done a number of things that are troublesome. They have rolled back protections for the quality of our air. They have lowered the standards and the regulatory requirements that have been in place for over 25 years. It's damaging not only to the environment, it's damaging to the health of our kids ... I think it's an enormous issue," Edwards said.
Copyright 2018 The Associated Press. All rights reserved. This material may not be published, broadcast, rewritten or redistributed. We strive to uphold our values for every story published.