New York — Roland Martin reeled in a big one for his weekly fishing show on the Outdoor Life Network.
Baiting a hook beside him on a dock in Crawford, Texas, was President Bush, whose leisurely afternoon casting for bass was chronicled for "Fishing with Roland Martin" in an episode that first aired Friday. (It re-airs at 5:30 p.m. CDT Wednesday and Thursday on Sunflower Broadband Channel 75.)
If you're wondering what the leader of the free world is doing fishing on an obscure cable TV show, you don't know politics. In a tight presidential campaign, the candidates seek any edge they can get and will find it all over the TV dial.
Both Bush and Democrat John Kerry want to seem like regular guys so voters can relate to them, said Scott Reed, a Republican political consultant who ran Bob Dole's presidential campaign in 1996.
"The number of folks that fish is off the chart," Reed said. "It reminds you that he's a normal guy who spends his leisure time doing the things that we do."
Undecided voters are more likely to be spending Sunday mornings on their boat than in front of "Meet the Press," he said.
That's why Reed kept sending Dole to NASCAR races during the 1996 campaign, although it's one of the last places you'd expect to see the distinguished former Senate GOP leader.
"People are voting for the person, more so than any other political office," said Chris Lehane, a Democratic aide who was press secretary to former Vice President Al Gore. "It comes down to a comfort level with the person you're going to choose. They're going to have to live with them for the next four years."
Bush also recently gave an interview to ESPN, and the sports network is repeatedly using presidential sound bites for its series about the top moments in sports over the past 25 years.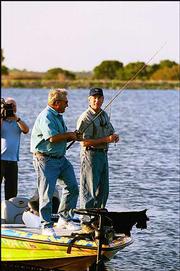 Not to be outdone, Kerry showed up to throw out the first ball in Fenway Park at a Yankees-Red Sox game that was televised nationally by ESPN.
Politicians stand a better chance of delivering their ultimate message -- that they're likable and worth spending time with -- at these kind of appearances than during a policy interview with a journalist, Lehane said.
"Would you rather go on television and discuss your technique and strategy for hooking a bigmouth bass," he said, "or would you rather go and discuss your strategy for getting the soldiers out of Iraq?"
ESPN had been trying since February for a sit-down with Bush for its 25th anniversary series. The network wanted the president to talk about how sports reacted after the 9-11 terrorist attacks and how Bush threw out the first ball for a game at Yankee Stadium, said Robert Abbott, the series' coordinating producer.
That episode of the series has done particularly well in the ratings, he said.
"It's a real feather in our cap," Abbott said. "We loved having him. He was very important to the 9-11 show."
Most of these TV appearances are relatively harmless and can have great benefit, like when candidate Bill Clinton appeared on "The Arsenio Hall Show" blowing a saxophone, Lehane said.
But they also can backfire. It took a while for Clinton to live down the "boxers or briefs" question on MTV, he said.
"You always have to be prepared when you're putting yourself in a different context," Lehane said. "You also have to bear in mind that you're running for the highest office in the world and people hold you to different standards."
Copyright 2018 The Associated Press. All rights reserved. This material may not be published, broadcast, rewritten or redistributed. We strive to uphold our values for every story published.