Baghdad, Iraq — Assailants ambushed a team of Spanish intelligence officers Saturday, killing seven agents in a bloody new attack on U.S. allies in Iraq. Two Japanese diplomats were shot to death in a separate attack.
The two attacks came a little more than two weeks after 19 Italians were killed in a suicide bombing appeared aimed at undercutting the cohesion of the U.S.-led coalition, which includes more than 30 countries. The insurgents are also focusing on separating U.S. forces from Iraqi allies by attacking police and local officials.
The Spaniards were attacked as their two civilian four-wheel-drive vehicles traveled south from Baghdad to the city of Hillah, according to Capt. Ivan Morgan, a spokesman for a multinational division in southern Iraq.
One Spanish agent escaped the assault in Mahmudiyah, 18 miles south of Baghdad. Journalists arrived on the scene and said a small crowd chanted praise for ousted president Saddam Hussein and some kicked the bodies.
Television footage of the aftermath showed several bodies along a highway as cars, their headlights on, drove by at dusk. People milled around, and a youth -- apparently aware he was being filmed -- kicked his foot in the air over a body. An older youth rested his foot on a corpse, an arm raised in triumph.
"We sacrifice our souls and blood for you, oh Saddam," some in the group chanted in Arabic, witnesses said.
Rajiv Chandrasekaran, a reporter for The Washington Post, spoke with several witnesses in the crowd. Based on what they said, he described it as a "sophisticated, coordinated attack."
One or two cars with Saddam loyalists were following the Spanish team, the witnesses told him. Near the site, they opened fire on the SUVs, forcing the lead vehicle off the road. "A second band of attackers laying in wait opened fire with rocket-propelled grenades and Kalashnikovs," he said.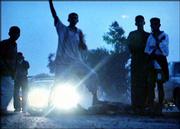 The first car caught on fire, and a 20-minute gun battle ensued, he said, based on the witness accounts.
Chandrasekaran said a crowd of about 100 people gathered, and added he saw people kicking the bodies. "It was hostility mixed with jubilation."
Spokesmen for Spanish Prime Minister Jose Maria Aznar said the attack wouldn't cause Spain to end its presence in Iraq. The killings of the Spanish agents came more than two weeks after assailants targeted another staunch U.S. ally, Italy, with a devastating car bomb outside the Italian barracks in Nasiriyah that killed 19 Italians and 14 others.
He said he would fly to Iraq to repatriate the bodies, which were evacuated from the scene by helicopters of Spain's Plus Ultra Brigade.
President Bush called Aznar "to express his sympathies on behalf of the American people," said White House spokesman Allen Abney.
Copyright 2017 The Associated Press. All rights reserved. This material may not be published, broadcast, rewritten or redistributed. We strive to uphold our values for every story published.