Photographer: Mike Yoder
Camera: D1X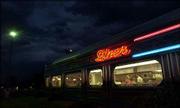 Lens: approximately 24mm
ISO: 400
Shutter speed: 1/30
Aperture: f4.5
During the week of May 12-18, I was given the opportunity to join professional and amateur photographers, including 36 Pulitzer Prize winners, in a visual documentation of a week-in-the-life of America. Considered the largest digital photographic project in history, the resulting book "America 24/7," is the product of 25,000 photographers from across the country shooting more than a million pictures.
Next September, 50 individual state books from the America 24/7 project will be published, including "Kansas 24/7".
At the invitation of Journal-World senior editor Bill Snead, I joined a team from Kansas and quickly created a list of potential subjects. I spent most of the week in Lawrence, and one of my two photos that made it into the book was taken at Heritage Baptist Church, 1781 E. 800 Road. The photo above was from a planned road trip to north central Kansas.
I was driving west on U.S. Highway 36 on my way to a scheduled shoot at the geographic center of the United States in Smith County. I had just driven through a storm, photographing several weather shots, when I passed the diner on the east side of Marysville. I drove right by the place, my mind more on finding a motel for the night than shooting another photo in the dark.
But I circled around and took some initial shots of the diner from a straight-ahead perspective. I figured on an exposure for the light inside the diner and hoped that would also reveal what remained of the dark storm clouds above. I changed my position to the side to create more visually interesting lines, and then I waited until two employees walked into the frame of the closer window.
-- "Behind the Lens" is an ongoing weekly series that features an image selected by the Journal-World photo staff that previously ran in the newspaper or online. Wondering how a certain picture was created? Nominate it for "Behind the Lens" by contacting chief photographer Mike Yoder at 832-7141 or myoder@ljworld.com,/a>.
Copyright 2018 The Lawrence Journal-World. All rights reserved. This material may not be published, broadcast, rewritten or redistributed. We strive to uphold our values for every story published.