Rome — Italy paid final tribute Tuesday to 19 Italians killed in Iraq, holding a wrenching state funeral on a national day of mourning -- an outpouring of solidarity that underscored how a country divided by war had united in grief.
Tens of thousands of people gathered at a Roman basilica for the funeral Mass, while others lined the procession route three-deep and wept or clapped as the coffins passed under thousands of flags draped from windows, balconies and flagpoles.
"We will never forget our dear heroes," said a banner on the Fori Imperiali boulevard near the Colosseum, where the funeral procession began.
Another read, "Before, 19 Italians on Earth. Now, 19 angels in heaven."
The funeral capped an extraordinary week of mourning following the Nov. 12 suicide truck bomb attack in the southern Iraqi city of Nasiriyah that killed 19 Italians -- the nation's single worst military loss since World War II -- and 14 other people.
The country's ever-bickering politicians fell silent, and young and old alike seemed to take the loss of 19 strangers personally.
Columnist Sergio Romano, writing in the Corriere della Sera daily newspaper, said the outpouring of grief was not just "Latin emotion" but evidence that underneath Italians' taste for quarreling lay "an old and profoundly rooted national identity."
Schools and the Milan Stock Exchange paused for a minute of silence, some shops and bars shuttered their windows for a few minutes and state-run RAI television, among the channels broadcasting the funeral live, was commercial-free.
Movie theater marquees were dark and the Colosseum lights went off after dark as a sign of respect. In Nasiriyah, the Italian military held a brief commemoration and observed a moment of silence.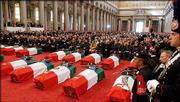 In Rome, a joint news conference by Premier Silvio Berlusconi and visiting Israeli Prime Minister Ariel Sharon was canceled.
At nearby Piazza Venezia, the stairs of the massive white monument to Victor Emmanuel II, Italy's first king, glittered from the mountain of cellophane-and-aluminum wrapped flowers left by Italians lining up through the night and into Tuesday morning to pay their respects at a public viewing of the coffins.
Berlusconi's government strongly supported the United States during the Iraq war and sent 2,700 soldiers to help stabilize Iraq afterward.
But many Italians opposed the conflict. In February, during a day of global anti-war demonstrations, Rome held the world's single biggest rally, with about 1 million Italians marching.
But the deaths of 12 Carabinieri paramilitary police, five army soldiers and two civilians seem to have strengthened Italian resolve to stay in Iraq, finish the job and fight those responsible.
"We will not flee from them, rather we will confront them with all the courage, energy and determination that we are capable of," Cardinal Camillo Ruini said in his homily during the Mass at St. Paul's Basilica.
Copyright 2018 The Associated Press. All rights reserved. This material may not be published, broadcast, rewritten or redistributed. We strive to uphold our values for every story published.