Barnes — John Hynek figures the Little Blue River has washed away 200 feet or so of land in his 35 years of farming along its banks in Washington County, enough soil annually to fill dump trucks parked bumper-to-bumper for nearly eight miles.
But besides destroying prime land for growing crops, river bank erosion threatens to choke off water for the most populous and prosperous region of Kansas.
Much of the soil washed away from Hynek's farm ended up in Tuttle Creek Lake, 25 miles to the southeast, which in turn supplies water to northeast Kansas, including Johnson County's affluent "Golden Ghetto."
The 73-year-old Hynek is now part of an effort to add years to the reservoir's life. Jutting from the banks of the river beyond his sorghum fields are short walls of rock piled several feet high, weirs that direct flowing water away from the bank, keeping soil in place.
Without the weirs, Hynek said, "I'd have lost more ground."
Stabilizing stream banks
Hynek's farm is one of 29 sites for constructing weirs, sloping banks and planting trees, shrubs and grass, along the Little Blue's meandering 20 miles from the Nebraska border, southeast through Washington County and into Marshall County.
Since 2001, state and federal agencies have spent about $501,000 to stabilize eight miles of stream bank under the Washington County project, or about $11.54 for each foot.
Farmers receive up to $150 an acre in state and federal funds, for not farming strips of land from 100 feet to 150 wide along river and stream banks. They also can receive funds to hire contractors to build weirs and help them plant trees, and property tax relief from local governments.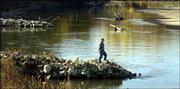 Since the state created the "buffer" program in 1998, it has spread to 65 of 105 Kansas counties. The State Conservation Commission expects to spend less than $724,000 for the program under the current state budget.
"It'd be nice if there were enough resources to do it on all rivers and streams," said Charles Benjamin, a Lawrence attorney and lobbyist for the Kansas chapter of the Sierra Club. "It's just a matter of whether you put money into prevention or put it into fixing a problem afterward."
Maintaining reservoirs
State officials worry about the slow death of reservoirs. Joe Harkins, director of the Kansas Water Office, called the reservoirs' deterioration "the greatest single hazard" facing the water supply, particularly for northeast Kansas.
The Little Blue and other waters in the Republican River basin drain into the Tuttle Creek and Milford reservoirs, then into the Kansas River, supplying communities along it.
The state can tap a total of 519,000 acre feet of water storage in the Clinton, Milford, Perry and Tuttle Creek reservoirs in northeast Kansas, enough to keep the estimated 1.1 million residents in 10 counties along the Kansas River supplied with water for more than three years.
Some state officials have proposed purchasing an additional 323,000 acre feet of storage, as a hedge against the region's future growth.
However, the water could run out. When construction started on the reservoirs in the 1960s, the U.S. Army Corps of Engineers expected them to live for 100 years, dying slowly as silt built up.
At the Kansas 16 bridge over Tuttle Creek, such silt has created solid ground and vegetation where boats once floated.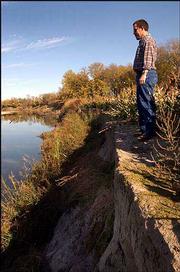 State officials contemplate choices their children or grandchildren might face if a reservoir dies, all expensive: dredging the silt out; building a new, taller dam, or building a new reservoir when the best spots already have been taken.
Tracy Streeter, the conservation commission's executive director, said decades of programs to combat erosion on crop land protected water quality by keeping soil and agricultural chemicals out of rivers and streams, but half of the erosion still occurred along banks.
In years past, stabilizing a stream bank could be haphazard. One method -- the "Detroit Revetment" -- was parking a junk car along a bank and letting it fill up with silt.
'Protect our resource'
Don Wilkinson's farm on the Little Blue, downstream from Hynek's in Washington County, illustrates what happens when a bank is not stable. The east bank drops 18 or 20 feet straight down, its soil vulnerable to high water.
Wilkinson pointed to a line of tall cottonwoods across the river and past a sand bar, 200 yards or so away, where the Little Blue's channel once was.
"There was a 10-acre field here," the 87-year-old said.
Wilkinson remains a little skeptical of the work planned for his stretch of the river -- low-stone weirs sticking out into the water; a sloping of the bank and the planting of trees.
But Streeter said a farmer usually makes up the loss by the sixth year of a 15-year contract -- and getting paid for idling crop land is better than planting it and then watching it get washed away.
And every chunk of ground saved keeps one of the reservoirs supplying northeast Kansas alive a little longer.
"We want to protect our resource," Streeter said.
Copyright 2018 The Associated Press. All rights reserved. This material may not be published, broadcast, rewritten or redistributed. We strive to uphold our values for every story published.