Kings craved and killed for it. Commoners slaved for it. High priests praised it. Alchemists strived to replicate it. Prospectors mined and panned and pined for it.
For centuries, gold has been revered and renowned as the metal of magic, power, and wealth, symbolizing everything from spirituality to greed.
The Spencer Museum of Art will offer an opportunity to gaze upon extraordinary examples of modern metallurgical masters in "The Art of Gold," an exhibition featuring 79 pieces by contemporary goldsmiths opening Saturday and remaining on view until Jan. 4 in the White Gallery. The exhibition celebrates the inventiveness of the artists and the beauty of traditional materials and processes through a collection of jewelry, hollow ware, vessels, small sculptures and other nonjewelry items.
Organized by the Society of North American Goldsmiths and toured by ExhibitsUSA, a National Division of Mid-America Arts Alliance with the Kansas Arts Commission, "The Art of Gold" is the first major exhibition of its kind in 25 years.
Unlike traditional jewelry making, studio goldsmithing -- designing and fabricating objects by hand in a small studio setting -- is a fairly recent phenomenon. Through the past decades, studio goldsmithing has developed into a diverse artistic field, showing influences from such fine arts movements as Pop Art and Minimalism while maintaining its own sense of craft and unique historical lineage. While some pieces in this exhibition include stones and precious gems in their designs, gold is the essential focus rather than a backdrop or frame for other elements.
The Art of Gold showcases both the commonalities and diversity of contemporary goldsmithing by presenting a wide cross-section of artists and styles, including works by noted contemporary goldsmiths such as Arline Fisch, Mary Lee Hu and Bruce Metcalf.
While many of the works in the exhibition are exquisite examples of wearable jewelry, others explore contemporary social issues or conceptual artistic themes. All the artists, however, reject the machine-like perfection of modernist design and embrace a wide range of traditional and historical jewelry-making techniques.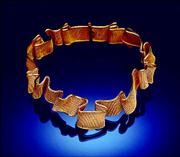 The Spencer Museum of Art will offer activities in conjunction with "The Art of Gold" exhibition, including a 24-minute video, "Jewelry USA," which will be shown continuously in the museum's Central Court. Other events:¢ Tour du Jour, by Susan Earle, curator of European and American art, 12:15 p.m. Nov. 13, White Gallery.¢ Children's art appreciation class focuses on the exhibition, Nov. 15.¢ The Hallmark Symposium: artist Kathy Buszkiewicz, professor of jewelry and metals at the Cleveland Institute of Art, 6 p.m. Dec. 1, Spencer Museum Auditorium.¢ Gallery talk, by Lin Stanionis, KU associate professor of design, 7 p.m. Dec. 4, White Gallery.
Copyright 2018 The Lawrence Journal-World. All rights reserved. This material may not be published, broadcast, rewritten or redistributed. We strive to uphold our values for every story published.