Jeremy Auman might never hear the end of it.
Auman's name appeared last week in the Journal-World as No. 6 on the city's list of top parking violators with unpaid fines. Since then, Auman, manager of the Round Corner Cheese & Salami Shoppe, 801 Mass., has endured a constant stream of jokes and teasing from regular customers -- people whistling the "Dragnet" theme, for example, or congratulating him on his newfound notoriety.
"It's mostly been in jest and fun," said Auman, 31, who also is co-founder of Cardtable Theatre company.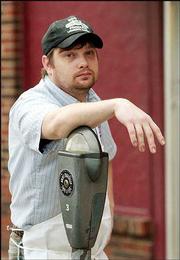 A recent tally showed Auman owed $1,440 in parking-meter fines.
"I'm constantly paying. I'm trying to chip away at it," Auman said. "I intend to pay it; it's just that I can't pay it all at once."
He said he was guilty of the violations but wanted people to know of the frustration of working where there are limited parking options.
Assistant city manager David Corliss suggested that downtown workers park in 10-hour metered spots or long-term parking garages, but Auman said those spots are either too far away from his workplace or usually full.
Auman said he thought some people who accumulated parking tickets moved out of state, never to face the consequences. "I'm not running and hiding from it," he said.
The ribbing of Auman continued Tuesday morning. One customer said he would have been on the list if he hadn't made a payment recently. A few minutes later, a woman popped her head in the door to tell Auman she saw his name on the list.
Auman, who prides himself on running a friendly deli, can give as well as he gets.
"Are you buying something, or are you just flirting with me?" he asked one customer.
Copyright 2018 The Lawrence Journal-World. All rights reserved. This material may not be published, broadcast, rewritten or redistributed. We strive to uphold our values for every story published.