Umm Qasr, Iraq — As U.S. and British troops consolidate their control of oil wells and facilities in southern Iraq, crude oil shipments from the country's Persian Gulf export terminal could resume within a few weeks, analysts said Wednesday.
However, an international consensus about who should manage the funds generated from renewed sales of Iraqi oil appears to be a more elusive goal.
"You could have everything ready to go from a military and technical perspective, but you might still have some political and bureaucratic wrinkles to iron out. I would think that's fairly ironic," said Jan Stuart, head of research for global energy futures at ABN Amro in New York.
American and British military planners had feared retreating Iraqis might sabotage their own oil fields and installations, just as they blew up more than 700 oil wells in Kuwait in the 1991 Gulf War. Visions of apocalyptic destruction in the Iraqi desert have so far proven unfounded.
Thanks in part to the speed of the coalition invasion, pipelines, pumping stations and other vital oil facilities in the al-Faw peninsula and elsewhere in southern Iraq are basically intact. The network is run-down and badly in need of investment after 12 years of U.N. economic sanctions, but it still is in operable condition, analysts say.
In the Rumeila South oil field, one of Iraq's largest crude deposits, security has improved enough in the past few days for firefighters from the United States and Kuwait to start snuffing out the five fires still burning at well heads there.
The last fire could be out within 10 days "if we can get lucky," said Brian Krause, president of Boots & Coots International Well Control, a Houston-based oil services firm hired to extinguish the blazes.
As a result of the allies' progress in securing Rumeila South, Stuart said Iraq could probably begin exporting oil again in "two weeks, maybe three." That's a month sooner than he had expected on the eve of the conflict.
Iraq has the world's second-largest proven crude reserves. Until the war began, it pumped about 2.5 million barrels a day, exporting much of it on oil tankers calling at the Persian Gulf terminal of Mina al-Bakr. The outbreak of fighting halted these shipments.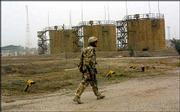 "There is no damage to the terminal, and the pipelines were undamaged. As far as I know, the only problems are the well fires, and in theory you could probably produce oil even with some wells still on fire," said Adam Sieminski, an oil price strategist at Deutsche Bank in London.
Sieminski predicted that "within a matter of a couple of weeks," Iraq could be pumping about 400,000 barrels daily at Rumeila South.
The United States and Britain plan to use money from the sale of this oil to help pay for Iraq's postwar reconstruction.
Possible impediments to a smooth resumption of oil exports include the reluctance of banks and insurers to finance shipments from Iraq and the future role of Iraq's state-run oil monopoly.
"There are still political and bureaucratic battles to be fought," said Raad Alkadiri of The Petroleum Finance Co., a Washington consultancy.
Copyright 2018 The Associated Press. All rights reserved. This material may not be published, broadcast, rewritten or redistributed. We strive to uphold our values for every story published.