Ed Tato knows that a neighborhood with a school is more attractive than one without a school.
That's why as president of the East Lawrence Neighborhood Assn. he's dead set against school district plans to close East Heights School. It's also why he'll be voting against the school board's proposed $59 million bond issue on Tuesday's ballot.
The two issues, he said, go hand in hand.
"If they close East Heights, it'll just add another element to people's impression that, you know, nobody wants to live in East Lawrence," Tato said. "And that just makes it that much harder to revitalize the neighborhood."
Jerry Schultz feels the same way about plans to close Centennial School.
"As a neighborhood, our big problem is that we've gone through one life cycle -- kids growing up and moving on -- and there's not been a regeneration of families because the landlords come in, buy up the properties and rent to students," Schultz said.
"That's what we're fighting," he said. "For them to close (Centennial) on top of that would hurt tremendously."
Schultz, a member of the Centennial Neighborhood Assn. steering committee, says he's against the bond issue because it's ill-conceived and disingenuous.
"They've been trying to close these schools for 25 years. They say it's all because of the budget," he said. "But I think it has very little do with the budget, because I don't think the savings are going to be there."
Schultz and Tato said it was contradictory and short-sighted to close one school while expanding another.
A better plan, they said, would be to reconfigure the schools' boundaries in ways that ensured an adequate number of students for each.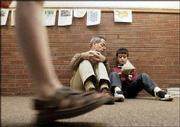 'Unfair' plan
School board member Sue Morgan said that wouldn't work.
"What happens is, ultimately, you end up leap-frogging schools -- to get enough students to fill the vacancies, you end up busing kids from out past the western-most boundary of the next school," Morgan said.
At some point, she said, it becomes "unfair" to "reboundary" one neighborhood's school children for the sake of another neighborhood. Consolidating nearby schools, she said, made more sense, which is why plans call for moving East Heights students to New York School and Centennial students to Cordley School.
Morgan, who's seeking re-election to the school board, said she sympathized with efforts to revitalize the neighborhoods near Centennial and East Heights. But defeating the bond issue, she said, likely would add to the neighborhoods' plight.
"If the bond issue passes, the board's preference is to move the students and their teachers, as a group, to the other school -- the bond issue enables us to do that," she said.
If the bond issue fails, Morgan said, Centennial and East Heights students would be "split up" and that wouldn't be "conducive to the best interests of the students."
School board member Austin Turney, who lives in East Lawrence, said defeating the bond issue would save neither Centennial nor East Heights.
"We will be compelled to close schools whether or not the bond issue passes," Turney said.
Turney doubted that East Heights' closing would have much effect on the neighborhood.
"New York (school) is close enough. I don't see a radical change," he said.
Turney, who's not up for re-election, said district plans call for converting East Heights to a facility for early childhood development and, possibly, an after-hours computer center for students in continuing education.
Turney said he's aware of Tato and Schultz's criticism.
"The thing I wish people would realize is that as a board we're running a school district with 10,000 students," he said. "And we have to do what's best for all."
But Schultz said Turney, Morgan and their peers on the board have misread the public.
"That's why there were so many candidates," Schultz said.
"That's why, when you drive through East Lawrence, you see all the signs for the no-bond candidates," Tato said, referring to candidates Rich Minder, Cille King, Leonard Ortiz and Michael Pomes.
Members of the community are invited to pose questions to six panelists representing a variety of viewpoints on the school bond issue during a televised forum tonight at Liberty Hall, 642 Mass.

The public forum, sponsored by the Journal-World, 6News and World Online, will be televised live from 7 p.m. to 8:30 p.m. on Sunflower Broadband Channel 6. Community members can ask their questions in person at Liberty Hall or submit them by e-mail to bondissue@ljworld.com.

Panelists for the discussion will be Laura Denneler, Centennial School PTA; James Hilliard, Citizens Opposing Bond Re-evaluate Alternatives; Caleb Powers, a junior at Free State High School; Ed Tato, president, East Lawrence Neighborhood Assn.; Lawrence schools Supt. Randy Weseman and Judy Wright, co-chairwoman, Vote Yes for Lawrence Kids Campaign.

The forum will be rebroadcast at 10:30 p.m. Wednesday, 6:30 p.m. Friday and 11 a.m. Sunday on Channel 6.
Copyright 2017 The Lawrence Journal-World. All rights reserved. This material may not be published, broadcast, rewritten or redistributed. We strive to uphold our values for every story published.