He's not sure how his brother did it.
But shortly before noon Thursday, Matt Buff's telephone rang and on the other end was his brother, Daniel Buff, a military policeman with a U.S. Army unit in Kuwait.
"He's heading into Iraq, and he is scared," Matt Buff said, describing his brief conversation with his brother. "He couldn't say where they were exactly ... in Kuwait on the move. He just wanted to say he was all right and everyone was OK."
It was a surprise call that came after a few weeks of no communication from his brother who recently was transferred from duty in Korea to Saudi Arabia and then Kuwait, he said.
His brother, who is 21, has been in the Army about two and a half years, he said.
"I could only talk with him for about five minutes," Matt Buff said. "He had to go. Apparently a bunch of soldiers all had a chance to call. He said it was insane the way everyone was lining up to call before they moved out. I could tell by the way he was talking that he was scared. He was talking real fast. He's never been in a situation like this. He kept saying pray for us, please support us."
Matt Buff said his brother told him he was near a spot where two Iraqi Al-Samoud missiles had been fired, one of which was intercepted by a U.S. Patriot missile.
He spread the news of his brother's call to other family members, including grandparents Robert and Joyce Gillum of Bonner Springs.
"We're praying for him," said Robert Gillum. "We sent him packages and letters, but it got returned."
Matt Buff said when he was in the army he served with a signal battalion, a unit that specializes in communications. He surmised his brother was able to place the telephone call because of his proximity to a signal unit. But he said he didn't really know how his brother managed to place a call from the field.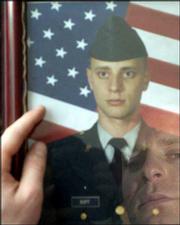 "This is amazing because I haven't heard from him in weeks when he was in Qatar or Saudi Arabia," Matt Buff said. "It feels like every time he calls lately this might be the last time I talk to him, and it's scary."
Matt Buff was one of the organizers of the support-the-troops rally at the courthouse Wednesday evening. He said a second rally is planned for today.
Rally today
Lawrence area residents will have another chance today to show their support for American military forces.
A rally will be at 6 p.m. in front of the Douglas County Courthouse, 11th and Massachusetts streets, Matt Buff said.
Buff, working with the Lawrence American Le-gion and Veterans of Foreign Wars posts, organized Wednesday eve-ning's rally that was cut short because of bad weather.
Thursday morning Buff said he got a phone call from his brother, Daniel Buff, who was on the move with an Army unit in Kuwait.
Buff said he told his brother about the support rallies being held here.
"That made him feel better," Buff said.
Copyright 2018 The Lawrence Journal-World. All rights reserved. This material may not be published, broadcast, rewritten or redistributed. We strive to uphold our values for every story published.