Burlington, Vt. — Democrat Howard Dean, a favorite of anti-war liberals, formally announced his presidential campaign Monday and immediately sought to expand his appeal by recasting himself as a populist fighting Washington insiders and corporate America.
The former Vermont governor, who has evolved from a pro-business centrist to a popular candidate of the left, urged voters to overcome their "profound fear and distrust" of the political system and stand against President Bush.
"You have the power to take back the Democratic Party! You have the power to take our country back!" he said. "You have the power! You have the power!"
The fiery rhetoric brought roars from the crowd of at least 2,500 crammed into a red-brick pedestrian mall, a church steeple towering behind Dean. The crowd was five times larger than announcement events staged by presidential rivals Dick Gephardt and Bob Graham.
Hundreds more supporters watched the speech at campaign sites across the country, a sign that Dean is building an Internet-driven organization.
Dean's newly fashioned message puts him in lockstep with Gephardt, a Missouri congressman, and Sen. John Edwards of North Carolina. Both cite their humble upbringings and vow to "fight for ordinary people" -- a line borrowed by Dean.
Dean hopes to galvanize Democrats who have not voted in recent elections, as well as independents who rallied behind insurgent candidates such as Republican Sen. John McCain in 2000 and Democrat Gary Hart in 1984.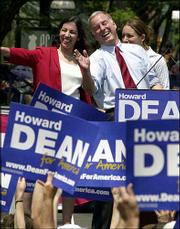 Copyright 2018 The Associated Press. All rights reserved. This material may not be published, broadcast, rewritten or redistributed. We strive to uphold our values for every story published.