Fish fry event to benefit ARC of Douglas County
A fish fry and music festival today will raise money for ARC of Douglas County, which serves children with developmental disabilities and their families.
Patrick Nichols and Lee McBee are two of the musicians scheduled to perform at the event.
All the money raised -- from a $7 cover charge, a silent auction and a raffle -- will be spent on services or equipment for the children, said Kalli Sanders, an ARC spokeswoman.
"There's no administrative cost or overhead that comes out of this," she said. "It's kept in a separate fund called the Arlyn West Memorial Special Needs Fund."
West, a Lawrence Realtor and businessman, was a longtime advocate for people with disabilities. He died last year.
The benefit begins at 2 p.m. and continues into the evening at Stu's Midtown Tavern, 945 Iowa.
Military
Rhodes scholar to delay study to serve in Iraq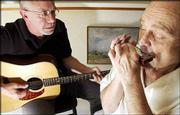 A Kansas University graduate who was named a Rhodes scholar in December will delay his studies at Oxford University because of a military deployment in Iraq.
Robert Chamberlain, a second lieutenant in the U.S. Army, will serve in Iraq until this fall. He plans to enter Oxford in October 2004. He plans to study international and immigration law.
Chamberlain, a native of Topeka, is KU's 24th Rhodes scholar.
City
Zoning code revisions to be posted on Web
Proposed revisions to the city's zoning codes will go online Monday, at the Lawrence-Douglas County Planning Office's Web site, www.lawrenceplanning.org.
The new code is a complete revamping of city rules on development and growth that have been in place since 1966. The revisions would allow homes to be built on smaller tracts of land than what's now allowed. Houses could be built closer together and sprawl would be reduced, officials said.
There also are revisions to the commercial and industrial sections of the zoning codes.
The Lawrence-Douglas County Planning Commission will conduct "listening" meetings on the proposal from 7 p.m. to 9 p.m. July 10 and July 31 at City Hall, Sixth and Massachusetts streets.
Courts
Affirmative action rally to coincide with decision
Supporters of affirmative action are planning a rally at Kansas University on the day the U.S. Supreme Court announces its decision on two cases involving the University of Michigan.
The announcement will come on a Monday, and it could be as soon as this Monday. The rally will begin at noon in front of Green Hall at KU.
It is one of 23 rallies across the country organized by the Coalition to Defend Affirmative Action and Integration and Fight for Equality by Any Means Necessary, which goes by BAMN. The same group organized an April 1 rally that included thousands of affirmative action supporters on in Washington, D.C. The case was argued before the Supreme Court on April 1.
At issue is whether two white defendants were unfairly denied access to the University of Michigan School of Law.
For more information on the local rally, contact Pamela Mzembe at (785) 228-3522.
Copyright 2018 The Lawrence Journal-World. All rights reserved. This material may not be published, broadcast, rewritten or redistributed. We strive to uphold our values for every story published.