For four years in the late 1930s, the federal government sponsored a project aimed at bringing live theater to the masses and theater jobs to those unemployed after the 1929 stock market crash.
The effort employed more than 12,000 people at one point and staged productions in more than 40 cities in 22 states.
But that portion of the New Deal went sour in 1938, when the House Committee on Un-American Activities targeted the Federal Theatre Project as a subversive organization.
A one-woman performance by Lawrence High School senior Erin Niedenthal re-enacts project director Hallie Flanagan's struggle to defend the initiative, to which the government cut off funding in 1939. "Federal Theater: To Be or Not To Be," the play Niedenthal researched, wrote and performed, impressed judges enough at regional and state National History Day competitions to earn her second-place finishes at both levels and the Siemens American History Innovation Award from the Siemens Corporation.
Niedenthal and 14 other Lawrence junior high and high school students who placed at the state competition in April leave today for nationals at the University of Maryland at College Park. The contest lasts through Thursday.
Niedenthal said she was amazed by the scope of the Federal Theatre Project, which is credited with some of the most innovative stagings of its time.
"It covered the entire United States, and I think a quarter of the population had seen some of their productions in one form or another," she said. "Theater today -- it's there, but it's not really big or anything. It was something that people could go to take their kids to in the afternoon. It was affordable."
Two other Lawrence High School students walked away from state with first-place awards. Samantha Birchfield, 2003 graduate, placed first in the senior individual performance category for her portrayal of Emmeline Pankhurst, an English suffragette. Jessica Hirschey, also a 2003 graduate, won first place in senior individual documentary for her investigation of Alfred Dreyfus and anti-Semitism in France at the turn of the century.
"I am so proud of these three young ladies," said Mike Ortmann, faculty sponsor for the LHS history day projects and advanced placement history teacher at the school. "They worked so very hard. It is extremely difficult to get to this level. They'll be competing against 2,000 students from across the nation."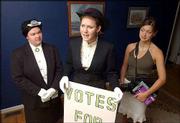 They're not the only ones. Here's a look at other Lawrence students competing this week at nationals:
Free State High School, Teacher: Mike Hill
Audrey Southard, first in senior paper, "The February Sisters: A Catalyst for Change."
Allison Edwards, second in senior paper, "The Right Not to Fight: Conscientious Objection."
Eleanor Ott and Annie McEnroe, first in senior group documentary, "Racial Conflict in Lawrence: Viewpoints on Rights and Responsibilities in the 1960s and 1970s."
Central Junior High Teacher: Dari Hilbert
Brenna Daldorph, Mulligan Greenwell and Emma Hoyle, first in senior group performance, "Living in Limbo: The Story of the World War II Refugees of Ft. Ontario."
Hillary Spratt and Maya Weil, first in junior group documentary, "The Fight for Control: The Creation of the Pill."
Jordan Crice and Sarah Zimmerman, second in senior group documentary, "Funky Rhythms and Fancy Dresses: Women in Jazz in the Early 20th Century."
Matthias Heilke, second in junior independent documentary, "Rights versus Responsibilities: The War Measures Act."
Copyright 2018 The Lawrence Journal-World. All rights reserved. This material may not be published, broadcast, rewritten or redistributed. We strive to uphold our values for every story published.