Topeka — Easy come, easy go.
In 1999, lawmakers approved using the state's share of the tobacco settlement for new children's programs and to start a trust fund to help a future generation.
Just four years later, however, two governors and the Legislature have smashed the piggy bank.
"We've broken our promise," said state Sen. David Adkins, R-Leawood, who helped set up the initial method of disbursing tobacco funds. "This amounts to stealing from the future."
The trust fund, which has $18 million in it, will be emptied on June 30 the end of the state's fiscal year to help balance the budget.
And the annual appropriations of tobacco funds for children's programs are increasingly being used to pay ongoing expenses of state government.
"Essentially, we are raiding the cookie jar," Adkins said.
No lobbyists for children
Some child advocates are quick to note that about $45 million this year in tobacco funds will pay for important programs for children and families, but the promise of 1999 has been dealt a setback.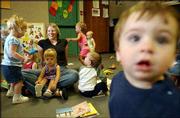 "We should be concerned," said Joyce Cussimanio, executive director of the Kansas Children's Cabinet and Trust Fund. "Children don't come and march through the Capitol and don't come and sit in those meetings. There aren't five lobbyists sitting in there talking about children's issues."
But, she said, state officials have faced tough budget choices because of the downturn in the economy and the fall in state tax revenues.
"We are in one of the most difficult situations in our state's history," she said.
What has happened in Kansas to tobacco funds has been repeated across the country.
In 1999, politicians across the country were flush with a solid economy and a $246 billion settlement from tobacco companies that had been sued because of the health problems caused by cigarettes. Kansas' share was $1.6 billion over 25 years the state has already received about $242 million.
But when the economy tanked, politicians quickly reached for the tobacco funds as a lifeline.
"State legislatures are facing the issue of falling revenue and at the same time an electorate that does not want to see their taxes raised but does want the same level of services they have received in the past," said Lee Dixon, director of health policy for the National Conference of State Legislatures.
"Many states are augmenting general revenue with tobacco settlement dollars," Dixon said.
A handful of states have sold off their future tobacco revenue stream to investors for a discounted up-front amount. Kansas officials have considered going that route but so far haven't.
Kansas expenses
When Kansas joined the settlement, lawmakers decided that tobacco funds would go for new children's programs, and they set up a trust fund to be invested that would pay for those programs once the annual receipt of tobacco settlement funds ceased.
But almost from the outset, lawmakers and then-Gov. Bill Graves and current Gov. Kathleen Sebelius, have used portions of that money to balance the budget and pay for ongoing state expenses.
For example, in 2002, Graves paid for an increase in education funding with $11.5 million in tobacco funds. Adkins said that was a violation of the spirit of the law, which was that the tobacco money would go for new programs, not expenses that had always been paid with taxpayer dollars.
Now the trust fund will be wiped out, and Adkins said he doubted it would ever be replenished.
"Those funds have been raided for short-term gain. To break those promises is more politically feasible than raising taxes," he said.

Smart Start
The shame of it, Adkins said, is that the state will never know what kind of innovations and opportunities it missed in improving the quality of children's lives.
A peek into what the funding has accomplished is in a pilot project called Smart Start, which brings together different groups to help educate infants and toddlers in preparation for school.
One of seven Smart Start programs in the state is in Douglas County and is called the Success by Six Coalition.
"We want people to recognize that education and learning really starts at birth, if not before," said Rich Minder, collaborative projects coordinator for the coalition.
When the Kansas Department of Social and Rehabilitation Services cut child care subsidies to 60 families this year in Douglas County, Smart Start was able to step in and help about half of those families.
The organization also has been able to reel in federal dollars to help expand centers for infants and toddlers.
Cussimanio said that because of its success, Smart Start has gained a foothold in the appropriations process when it comes to tobacco funds.
"We're thankful from the Smart Start perspective that we've had the support that we've had. We are looking at ways we can maximize dollars by matching some of Smart Start with federal dollars," she said.
But Adkins said he wondered how much better Kansas would be if Smart Start could be applied statewide.
In 1999, the Kansas plan for tobacco receipts put the state on the map as a leader in children's issues and a great place to raise children, Adkins said.
"With each action of siphoning that money, we compromise that vision," he said.
Copyright 2018 The Lawrence Journal-World. All rights reserved. This material may not be published, broadcast, rewritten or redistributed. We strive to uphold our values for every story published.