A skinny man wearing a floppy fishing hat and brandishing a handgun robbed Douglas County Bank, 711 W. 23rd St., Monday morning.
Employees and surveillance cameras provided a vivid physical description of the man: just under 6 feet84 tall with a stubbly beard, sunglasses and a backpack.
The man came into the bank about 9:48 a.m., approached a teller, brandished a gun, demanded money and left southbound on foot with an undisclosed sum of cash.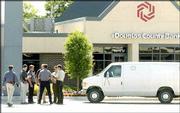 "Everybody did what they were supposed to do," said Patrick Slabaugh, executive vice president of the bank. "We're just glad no one was hurt."
Lawrence police officers canvassed the neighborhood Monday, and in the late afternoon the department posted bank-surveillance photos of the man on its Web site, www.lawrencepolice.org.
The FBI has since taken over the investigation.
"We're just hoping for leads from the public at this point," FBI special agent Jeff Lanza said. "That's the kind of thing we do in most bank robberies is to get the pictures out, and hopefully we'll get a tip."
The FBI eventually catches roughly 60 percent of all bank robbers, Lanza said. Penalties for bank robbery can go as high as 20 years in prison without parole.
"Even though that's where the money is, it's not a good place to rob because of our harsh penalties and our success rate in catching robbers," Lanza said.
Slabaugh, the bank executive, said people who gave information leading to an arrest might be eligible for a reward from the Kansas Bankers Assn.
Tips can be called in to Lawrence Police at 830-7430 or the Crimestoppers hot line at 843-TIPS.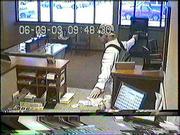 Copyright 2018 The Lawrence Journal-World. All rights reserved. This material may not be published, broadcast, rewritten or redistributed. We strive to uphold our values for every story published.