SACRAMENTO — Backers of the drive to oust Gov. Gray Davis had a boisterous celebration at state Capitol on Saturday, as four potential candidates sought to tie up support before the Oct. 7 recall election.
The rally capped a week when the Republican-led petition drive qualified for the ballot, making Davis, a Democrat, only the second governor ever to face a recall ballot.
People in the crowd of around 1,000 waved signs with slogans like "Hey Davis, the fat lady is singing," and "Sav-us from Dav-us." They sang a Davis recall song and drank recall Davis bottled water.
And in a clear sign the focus of the recall has shifted from qualifying for the ballot to installing a new governor, potential candidates circulated in the crowd.
U.S. Rep. Darrell Issa, who funded the recall drive and is the only declared Republican candidate, former GOP gubernatorial nominee Bill Simon and state Sen. Tom McClintock all addressed the group.
Absent was perhaps the most talked-about potential GOP candidate, actor Arnold Schwarzenegger, whose aides say he hasn't made up his mind.
"All of you are part of a revolution not seen in America perhaps in history," Issa said.
"You put a face on the evil of government waste, of increasing taxes, of overspending and increasing bureaucracy. You put a face on it, and the face is Gray Davis."
McClintock, who ran unsuccessfully for controller in November, has not formally declared his candidacy but left little doubt he is in the race. He said later he planned to file soon to run. Candidates must file by 5 p.m. Aug. 9.
As recall supporters rallied in Sacramento, Davis and supporters from organized labor did the same in Los Angeles to oppose the recall.
Davis stressed Saturday that the recall was not about him, but moving forward with a Democratic agenda. He said he didn't understand why Republicans were willing to cut millions from the state budget, but were willing to spend $60 million on a recall election.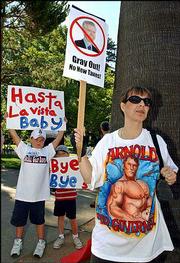 Copyright 2018 The Associated Press. All rights reserved. This material may not be published, broadcast, rewritten or redistributed. We strive to uphold our values for every story published.