Traffic likely will snarl Lawrence streets if dedication events for the Dole Institute of Politics draw the tens of thousands of people expected.
The philosophy behind organizers' parking and traffic plan is simple, said Erik Nelson, associate director of the institute.
"We have to get the message out: 'Don't be silly and try to go to campus. Save yourself some needless frustration,'" he said.
Organizers are telling visitors to park in designated lots around Lawrence and ride free shuttle buses to the building on Kansas University's west campus.
The designated lots:
North Lawrence -- I-70 Business Center near the East Lawrence exit of the Kansas Turnpike.
West Lawrence -- Free State High School, near Sixth Street and Wakarusa Drive.
East Lawrence -- Douglas County 4-H Fairgrounds, 19th and Harper streets, and Ninth and Vermont streets.

South Lawrence -- Holiday Inn Express and South Wind 12 Theatres near 34th and Iowa streets.
KU main campus -- Lots near Memorial Stadium and the garage at Naismith Drive and Irving Hill Road.
Parking for people with handicapped permits is available near KU residence halls on Daisy Hill, accessible from 15th Street and Engel Road.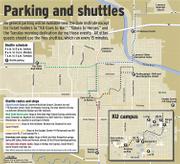 Shuttles will run between the parking lots and the Dole Institute from 9 a.m. to 8 p.m. Sunday, 8 a.m. to 11 p.m. Monday and from 7 a.m. to 3 p.m. Tuesday. Buses are scheduled to leave from the locations every 15 minutes.
Dole officials are hoping to avoid mistakes made by organizers of last September's Family Freedom Day in Topeka. An estimated 80,000 people attended -- far more than expected -- which clogged streets heading to the event at Forbes Field.
Chief Master Sgt. Pete Boggs of the 190th Air Refueling Wing, one of the Topeka event's organizers, said this year's event, in May, included more law enforcement officials directing traffic, more routes into Forbes Field and bus drivers more familiar with shuttle routes, which alleviated traffic problems.
"It's just like most areas," Boggs said. "They're not designed to handle an event like that."
Some traffic jams in Lawrence are to be expected during the three-day event, said David Woosley, the city's traffic engineer.
"People just need to be patient," he said. "On those three days, I wouldn't make trips around town that aren't necessary. I'd plan on doing your grocery shopping ahead of time."
Saturday, July 195 p.m.-8 p.m. -- Building tours7 p.m.-8:30 p.m. -- Memory Tent of World War II speakers, west campusSunday, July 2010 a.m. -- Interfaith Worship Service, Lied Center11 a.m.-5 p.m. -- Building tours11:30 a.m.-8:30 p.m. -- Memory Tent2 p.m.-3:30 p.m. -- "KU Goes to War," Lied Center7 p.m.-10 p.m. -- An Evening of Dancing with the Glenn Miller Orchestra, Lawrence Holidome. This event is sold out.Monday, July 218 a.m.-7 p.m. -- Memory Tent9 a.m.-2 p.m. -- Building tours10 a.m.-noon -- Air parade over Memorial Stadium featuring World War II aircraft.2 p.m.-3 p.m. -- 1940s fashion show, Murphy Hall5:30 p.m. -- Legacy of Leadership fund-raising dinner, Lawrence Holidome8 p.m.-9:30 p.m. -- "Salute to Heroes: An Evening to Remember," USO-style show, Lied Center. This event is sold out but will be shown on a giant screen outside the Dole Institute building.About 10 p.m. -- Laser light show and stained-glass American flag unveiling.Tuesday, July 228 a.m.-9:15 a.m. -- Memory Tent9:30 a.m.-10:30 a.m. -- Concert by 312th Army Band10:30 a.m.-11:30 a.m. -- Dedication ceremony3 p.m.-10 p.m. -- Building tours
The U.S. 312th Army Band will present an hourlong concert at 9:30 a.m. Tuesday outside the Dole Institute building.The tentative program is as follows:¢ "The Liberty Bell" (march by John Philip Sousa)¢ Irving Berlin: Songs for America (medley)¢ "Il Bersagliere" (Italian rifleman march)¢ Glenn Miller in Concert (medley including tunes such as "Moonlight Serenade," "Little Brown Jug" and "Pennsylvania 6-5000")¢ "Tuxedo Junction" (vocal)¢ "Thanks for the Memory" (vocal)¢ The Homefront: Musical Memories of WWII (medley including tunes such as "Bell Bottom Trousers," "Don't Sit Under the Apple Tree," "I'll Be Seeing You" and "Praise the Lord and Pass the Ammunition")¢ "The Walking Frog" (march by Karl King)¢ Big Band Signatures (Medley of signature tunes such as "Don't Get Around Much Anymore," "Stompin' at the Savoy" and "Sing, Sing, Sing")¢ "America the Beautiful"¢ "Stars and Stripes Forever"
The event starts at 10:30 a.m. Tuesday on Kansas University's west campus.Welcome and introduction of master of ceremonies, Tom Brokaw, by KU Chancellor Robert HemenwayPosting of the colors -- Color guardNational Anthem -- Choir, U.S. Army Band and audienceInvocationIntroduction of guestsRemarks -- Gov. Kathleen Sebelius and former presidents Gerald Ford and Jimmy Carter, and Condoleeza Rice, national security adviserMusical interlude -- Lawrence Children's ChoirIntroduction of Bob Dole -- Richard Norton Smith, director of the Dole InstituteRemarks -- DoleBenediction -- Lawrence Children's Choir
Copyright 2018 The Lawrence Journal-World. All rights reserved. This material may not be published, broadcast, rewritten or redistributed. We strive to uphold our values for every story published.