Washington — In a National Press Club ballroom off-limits for years to female reporters, pioneering journalist Sarah McClendon was remembered Saturday for her guts and grace.
Colleagues, friends and relatives spoke of McClendon's unrelenting reporting style, her commitment to veterans and women's rights and her public aggressiveness that hid a private affability.
But most important, they described her as driven in her job to help and inform the American people.
McClendon, a White House reporter who covered every president since Franklin D. Roosevelt, died Jan. 7 at age 92.
Jules Minton, who co-wrote McClendon's autobiography, "Mr. President! Mr. President!" said that in an interview, Nixon Defense Secretary Melvin Laird credited McClendon for his order to the four service branches to elevate women to general and admiral.
"Sarah McClendon was put on Earth not only to represent the little people, she had the magic ability to bring out and empower the little person in each of us," Minton said.
About 250 people filled the National Press Club ballroom's seats and some stood along back walls. A black-and-white photo of McClendon loomed over them, a reminder that she had helped bring women from the balcony, where they had been restricted, to the ballroom floor.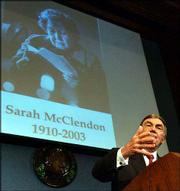 The club began allowing women as members in 1971, after a long fight by McClendon and others.
Several speakers suggested that McClendon's reporting style was likely still in use in eternity.
"For Sarah McClendon, heaven's just a place where every question will get a good answer," former President Clinton said in a videotaped tribute.
But ABC newsman Sam Donaldson suggested otherwise.
"I don't think Sarah went to heaven at all, though I think she eventually will get there. I think when she was free from her earthly job of deviling the president, she went straight to hell, to devil the devil," Donaldson said.
"If the president had had the thought to send her to Baghdad and confront Sadaam (Hussein) I think we'd all be able to stand down now," he added, drawing whoops and laughter.
Copyright 2018 The Associated Press. All rights reserved. This material may not be published, broadcast, rewritten or redistributed. We strive to uphold our values for every story published.