Many of the hallways in Kansas University's Art and Design Building are relatively quiet places. Faculty and students work in their studios, doors closed, concentrating.
Students see instructors in class. Instructors see other instructors in meetings. But seldom are instructors seen as artists.
The annual art department faculty show, opening today in the Art and Design Gallery, will put in a public space what KU's artist-teachers create when they're not in front of a classroom.
"It's wonderful because I think that we're all artists first," said Tanya Hartman, assistant professor of painting and drawing. "I think it's a really great faculty. Everybody's really very engaged with their work. We all have a very different style."
The show's opening reception will be from 2 p.m.-4 p.m. today. Admission is free. Each of the 20 faculty members has chosen one work to exhibit.
Hartman will show a 119-piece portion of what eventually will be a wall "blanket" composed of 365 squares of embroidered paper. Each 4-by-5-inch square poses the question "What was beautiful today?" and then contains a typewritten description of what appeared to be of beauty on any given day.
For example, here's how square No. 18 reads:
"What was beautiful today? Today, the sun shone in swathes that sequined like silver swells on an earthen sea. The air was redolent of smoke and soil. Blue sky, brown field; silver light and far away a farmer in blue jeans and a turquoise top walking next to a turquoise tractor."
The piece is made in muted tones of white and cream.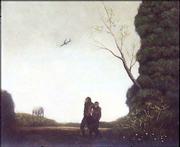 "It's a subtle piece," Hartman said.
"The work is extremely slow to make, but its subject matter is about time's slow passage and the significance or insignificance or each passing moment," she wrote in a statement about the piece. "Though I wish I could produce more of this stitched work more quickly, I have accepted the organic pace that this kind of work requires."
The piece is a companion to two other large-scale works that, all together, will become an installation, "An Imagined Survival/A Conjured Identity." Hartman hopes to complete the work, which she's been creating since 1999, in about two years.
Another faculty member, Ivan Fortushniak, will be showing new work at the faculty exhibition as well. Recently, Fortushniak, an assistant professor of art, has departed from landscape paintings to explore the connections between human beings and their evolutionary ancestors.
What: KU Department of Art Annual Faculty Show.When: 2 p.m.-4 p.m. today. Exhibition runs through Jan. 31.Where: Art and Design Gallery on the third floor of KU's Art and Design Building at the northeast corner of 15th Street and Naismith Drive.Cost: Free and open to the public.Gallery hours: 8:30 a.m.-4:30 p.m. Monday-Wednesday, 8:30 a.m.-9 p.m. Thursday, 8:30 a.m.-1:30 p.m. Friday, 1 p.m.-4:30 p.m. Sunday. Gallery is closed on Saturday.
The oil painting he has chosen for the exhibition, "Departure," shows a male-female hominid pair walking hand-in-hand from a dark forest. Symbols of modernity peak from the background: a Boeing jet flying at a sharp downward angle, a water tower, a smokestack spewing industrial pollution.
"One of the best parts (of these primate paintings) is doing the research," he said. "I've actually thought about exhibiting them in an anthropology museum, getting some feedback from a different kind of audience."
He's anxious to get his work in front of his students and to see what his colleagues are doing in their studios.
"You never get a chance to talk about art (with other faculty members)," he said. "And you never get to see each other's art."
Also exhibiting in the show will be Jane Asbury, Phillip Blackhurst, Robert Brawley, Carol Ann Carter, Richard Dishinger, Robert Green, John Hachmeister, Cima Katz, Michael Krueger, Gerald Lubensky, Judith McCrea, Yoonmi Nam, Robert Price, Roger Shimomura, Robert Sudlow, Peter Thompson, Maria Velasco and Robert Wright. Painting, sculpture, printmaking and new genre are the media areas covered in the department.
Copyright 2018 The Lawrence Journal-World. All rights reserved. This material may not be published, broadcast, rewritten or redistributed. We strive to uphold our values for every story published.