Park City, Utah — Amid the glitz, celebrity-watching and dealmaking that has overrun his Sundance Film Festival, Robert Redford figures now and then he has to step out from behind the scenes and remind people it's really all about movies.
Redford generally prefers to stay in the background so his own star power does not steal attention from the films. Some years, he has not even attended the festival if he was busy shooting a movie.
But this year, Redford has taken a higher profile, introducing the opening-night film Thursday with a passionate statement of Sundance's mission to encourage diversity and dissenting opinions.
"Sometimes, I feel the need, if anything, to remind people of who we are and what we're doing," Redford, 65, said in an interview Friday. "It sometimes gets blurred by all the surrounding factors, the media, fashion, parties, which is fine. That's all part of the deal, but it's not the deal.
"Everybody should have a good time, but it's the filmmakers and how we program for them that matters. We program for diversity, not commerciality."
Redford's higher profile this year also had to do with uncertain times that followed the Sept. 11 attacks and the potential undermining of civil liberties.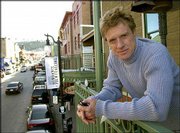 "I wanted to explain why I think Sundance is more relevant than ever right now because of the role it plays, particularly in terms of a kind of freedom of expression," Redford said. "I got a little uneasy when I started to see there was a hint of this notion that normal parts of a democratic process were being treated differently, like it was unpatriotic to ask questions. And independent film, that's exactly what it does. It has the courage to ask things.
"In times of fear, we tend to go to safe places. Is there still going to be room for works addressing difficult issues, particularly if they're not either encouraged or being addressed on other levels?"
Redford founded the Sundance Institute in 1981 to nurture promising filmmakers outside of Hollywood, whose blockbuster-minded studios can chew up and spit out inexperienced writers and directors.
The institute has gradually expanded to include programs for film composers, documentary filmmakers and American Indian artists.
Copyright 2018 The Associated Press. All rights reserved. This material may not be published, broadcast, rewritten or redistributed. We strive to uphold our values for every story published.