Stories of competitions, memories of forgotten uniforms -- and of course the sound of music -- filled the auditorium Thursday as the Lawrence High School band celebrated its 80th anniversary.
Four former conductors -- Lindsey Williams, Jay Smith, Vic Sisk and Ed Bartley -- were in town for the event, and each directed a song performed by the Alumni Band. The audience was able to learn where the directors went after Lawrence as well as hear a few funny stories.
"This is kind of a culminating event for the year," said Anne Schulman, member of Lawrence High Band Parents.
Smith remembered a rainy competition in which half his marching band members lost their shoes in a muddy spot.
And Sisk drew a laugh with his recollection of having to loan his pants to his field conductor.
Bartley offered a heart-felt thank you.
"It's really a privilege to come back to Lawrence High," he said.
The directors were awarded plaques depicting Lawrence High mascot Chesty Lion in a band uniform after the concert.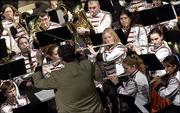 "So you'll remember," said current band director Mike Jones. "Not that you'll ever forget."
The high school band had its beginnings in 1922, Jones said, but did not announce until 1923 that it was ready to give performances, and even then concerts were given only upon request.
"In the '30s, it was the thing to do to have a really good band," Jones said, adding that men like John Philip Sousa and Karl King had made such music appeal to the masses.
The band started with about 30 people, but today Jones has about 160 students who are part of the symphonic, concert, marching and jazz bands as well as jazz combos and the orchestra.
When Lawrence had just one high school, enrollment was close to 250.
Other things have changed, too.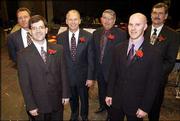 In 1926, the pep band's "sole purpose" was "creating and maintaining pep among the students of the school," according to the concert program.
Today musical education is considered almost as important as reading and arithmetic, and students earn credit for their participation.
And the marching style was altered in the late 1980s when drum and bugle corps became popular, Jones said.
The shows have become more intricate, forcing bands to spend a whole season perfecting just a couple of songs.
As the bands rolled through their songs, giving the audience goosebumps at the end of a piece about Dresden, Germany, in 1945 and ending with the alma mater, one thing was clear: Theirs is a tradition worth keeping.
"They've had a solid concert band here for a long time," Jones said.
Copyright 2018 The Lawrence Journal-World. All rights reserved. This material may not be published, broadcast, rewritten or redistributed. We strive to uphold our values for every story published.