Topeka — Cutting the state's red tape would save Kansas University $1.4 million yearly, Chancellor Robert Hemenway told lawmakers Thursday.
Standing before the House Education Budget Committee, Hemenway proposed eliminating bureaucratic restrictions in five areas -- purchasing, financial management, architectural services, printing and surplus property -- as a way to counteract budget cuts.
"We're hurt," he said. "We're not whining, but damage has been done. If you can't provide funds, we'd ask you give us flexibility to make our funds go further."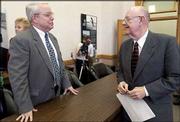 Hemenway's recommendations were based on a report compiled last fall by business officers of the state's six state universities. Among other suggestions, the report noted KU could save about $400,000 a year by not having the state duplicate the university's architectural services, and more than $50,000 per year if KU could purchase printer cartridges outside the state contract.
Hemenway also said the state sold only about 1 percent of the 2,500 to 3,000 surplus property items for which KU must fill out paperwork each year.
"One thing that frustrates us is that administrative procedures for the state have changed little in the last 50 years," he said.
Reggie Robinson, president and CEO of the Kansas Board of Regents, said staff members had been discussing the proposed changes with the Department of Administration. He said he wasn't sure yet whether the new policies would require administrative changes, legislation or both.
Hemenway also noted that community colleges, technical institutions and Washburn University received state funds but didn't have to follow state procedures in the areas he listed.
Even if universities are cut from state procedures for purchasing, they could work together to buy in bulk, said Rep. Joe McLeland, R-Wichita.
"I've seen enough problems with purchasing when people don't work together, and it drives the cost up," he said.
Hemenway said cutting the red tape wouldn't be a quick fix for KU's budget problems. He said the university would need several years to phase in the new policies, suggesting they go into effect in 2006.
KU's budget was cut by $18.8 million this year. Though Gov. Kathleen Sebelius' proposed budget for the fiscal year beginning July 1 keeps funding at the same level for state universities, Hemenway said universities wouldn't be "held harmless" because they would have increases in expenses such as health insurance. KU has requested a 6 percent increase in its operating budget.
Copyright 2018 The Lawrence Journal-World. All rights reserved. This material may not be published, broadcast, rewritten or redistributed. We strive to uphold our values for every story published.