Employees at a Lawrence fast-food restaurant are breathing easier now that charges have been filed against two men who allegedly robbed them last week.
Both employees were ordered to turn over money and then were bound hand and foot and left on the floor.
"I thought they were going to shoot me," a 21-year-old woman who was managing Taco John's, 1626 W. 23rd St., said as she recalled Friday night's incident. "I never thought that would happen to me."
George O. Cannon, 45, and Michael A. Hussey, 38, both of Kansas City, Kan., were each charged Monday in Douglas County District Court with two counts of aggravated robbery, two counts of kidnapping, obstruction of a law enforcement officer in the performance of duty and possession of marijuana. Cannon also faces a charge of possession of cocaine.
During their first appearances Monday in court, Judge Pro Tem Peggy Kittel set each man's bond at $50,000. They are to appear in court at 2 p.m. Wednesday before Judge Michael Malone when preliminary hearings will be scheduled. Both suspects remained in custody Monday night.
The two men also are suspects in the Dec. 22 robbery at Rex TV, 2800 Iowa, according to Lawrence Police. So far, however, charges have not been filed in that robbery. No one was available Monday in the district attorney's office who could comment on whether charges are pending in that incident.
Police were tipped off to the Taco John's robbery about 9:35 p.m. Friday when a woman in the drive-through lane thought there was trouble inside the restaurant and called 911. An employee inside the restaurant in some way indicated to her that she should leave, Sgt. Mike Pattrick said.
Police were in the area when the robbers left the restaurant and arrested them moments later.
In the Dec. 22 robbery at Rex, three employees were in the store as it was closing when one robber armed with a pistol entered. The second suspect, also armed with a pistol, came in a couple of minutes later, according to the man who was managing the store that night.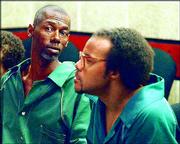 The suspects took store money and robbed the employees of their personal money, the manager said. The employees were then bound with duct tape.
"I was thinking about my family," the manager said, as he recalled being tied up. "I thought we were going to die."
The suspects fled through the store's back door, setting off an alarm and alerting police. The manager said he also called police after freeing himself from the duct tape.
According to records with the Kansas Department of Corrections, Cannon has a record of theft and aggravated robbery in Wyandotte and Johnson counties.
Copyright 2018 The Lawrence Journal-World. All rights reserved. This material may not be published, broadcast, rewritten or redistributed. We strive to uphold our values for every story published.