Daniel Vannicola feels fortunate to have escaped serious injury when his truck was hit by a vehicle driven by a man suspected of being under the influence of alcohol.
"It scared the hell out of me," said Vannicola, an 18-year-old graduate of Perry-Lecompton High School.
The driver of the Lincoln Town Car that hit Vannicola's restored Ford truck at Sixth Street and Wakarusa Drive went to the hospital.
Vannicola said his truck was ruined. His back and neck are still sore.
"I feel like I was lucky," Vannicola said. "One, I didn't get hurt badly. And, two, I stopped him from hurting somebody else."
Other people driving in Douglas County haven't been so fortunate.
The Kansas Department of Transportation, acting on a request from the Journal-World, issued a report that logged the date and location of 230 alcohol-related vehicle accidents in Douglas County during 2002, the most recent year for which statistics are available.
The Douglas County wrecks resulted in five fatalities and 142 injuries, KDOT reported.
Comparable alcohol-related accident statistics in four neighboring counties in 2002: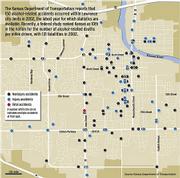 Franklin -- 28 accidents, one killed and 19 injured.
Johnson -- 253 accidents, two killed and 138 injured.
Leavenworth -- 58 accidents, none killed and 28 injured.
Jefferson -- 15 accidents, three killed and 14 injured.
A new study by the National Highway Traffic Safety Administration indicates Kansas ranked 10th in the nation for the number of alcohol-related traffic deaths per mile driven in 2002. Kansas recorded 131 fatalities last year, up from 84 deaths in 1998.
Lawrence Police Sgt. Mike Pattrick said the approaching New Year's holiday made this a good time to remind the public that people who have been drinking alcoholic beverages shouldn't be behind the wheel of a vehicle.
They're placing their own lives and the lives of others at risk by driving under the influence of alcohol, he said.
"Anytime you choose to do something like that, you're responsible for anything that happens," Pattrick said. "The only way to be completely safe in that regard ... is to choose not to drive if you have been drinking."
He said the same black-and-white rules should apply throughout the year.
"Have a designated driver if you're with a group of people," Pattrick said. "If not, make transportation arrangements."
People fool themselves into thinking that they can handle driving despite being impaired, he said.
"Your reaction times are quite different, whether they be quicker or slower. They're different."
He said prevention efforts by law enforcement include random sobriety checkpoints. The low number of arrests resulting from those operations shouldn't discount the effectiveness of the program, he said.
"For every 200 or so cars we have contact with, we may have an arrest of one or two, but we've educated those 200 on the dangers of alcohol and driving."
Count one teenager -- Vannicola -- among those already convinced of the perils inherent in drunken-driving.
"I don't do any of that," said Vannicola, who attends an automotive vocational school in Houston. "I have seen what can happen."
Paul A. Seymour, the driver of the car police say hit Vannicola's truck, couldn't be reached for comment Friday.
Copyright 2018 The Lawrence Journal-World. All rights reserved. This material may not be published, broadcast, rewritten or redistributed. We strive to uphold our values for every story published.