If the opinions of two of the largest national music magazines mean anything at all, Lawrence's scene is somewhat less hip than it has been hyped.
The May issue of Blender magazine named its "20 Most Rock & Roll Towns in America," including such sonic centers as Austin, Texas, New York City's Williamsburg, and the more recently arisen scene in Omaha, Neb.
Lawrence didn't make the cut.
And though once lauded by Rolling Stone as having one of the country's most fertile underground scenes just a decade ago, that same magazine also declined to give Lawrence the nod in its February feature, "Campus Scenes That Rock."
Lawrence was, however, at least considered for the Blender list. Back in February, a reporter from the magazine (circulation: 410,000) started his research on Lawrence by calling one of this area's veteran music promoters, Jacki Becker.
Through the course of several phone conversations, the reporter got the verbal version of the scene: the musicians, the promoters and the venues, which include Abe & Jake's, Liberty Hall, The Taproom, The Bottleneck, Paradise Cafe, The Jazzhaus, La Tasca, The Replay and The Granada.
"That's nine places in four blocks! Where else has that?" Becker said, repeating what she told Blender about downtown Lawrence. "Maybe Austin, Texas, has that goin' on, but that's about it. That doesn't even happen in Williamsburg. It's unheard of!
"And within the same few blocks you've got how many record stores? How many recording studios? You can start your band, record your band, play your band, sell your band -- all in a few blocks. That's AMAZING. And thanks to radio and thanks to local press, we have this great community," Becker said.
The editor of Blender declined to comment on the story.
"If Blender chose not to see that, oh well," Becker laughed. "If that reporter would have actually gotten in his car and gone to half these places, I bet he would've changed his mind."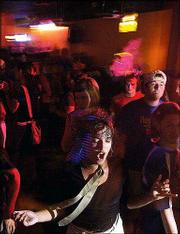 The hipness behind the hype
When he's not in class or working his day job at Yello Sub, Edwin Morales is frequently found in a nondescript house in the student ghetto between campus and downtown. It's the so-called 912 Collective, a two-story cluster of make-shift offices where he, Becker, and several other independent promoters split the bills and orchestrate the details behind a lot of the town's shows.
During the past two years, Morales and his crew, Downplay, have put on some of Lawrence's more innovative events like "Neon," an '80s night that packs La Tasca on Thursdays, and the "Bulldog Battle" breakdancing competitions. Despite having scarcely more money at his disposal than the average college student, Morales has brought dozens of bigger name hip-hop and electronic acts through town. Doing so means putting his own bank account on the line -- and occasionally losing his rent money on a show -- but he said it's that kind of dedication to live music that makes this scene what it is.
"In Kansas City, they want to make sure they're not going to lose money before they do an event, which enables them to pass up a lot of things, which is why you don't see the consistency there," Morales said.
"Over here, we're like, 'Let's do it.' If we lose some money, at least we had a good show, you know?"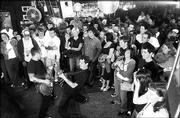 Like Becker, Morales was interviewed by the Blender reporter.
"We spoke about the diversity of Lawrence and why music succeeds here, versus let's say Kansas City," Morales said. "This town is more open-minded. It goes back to the fact that the Underground Railroad used to come through here. It's ALWAYS had more diversity that any other city like it I've seen. There's more minority populations in, say, Wichita or Topeka, but they've never been so intermingled as they are here in Lawrence, at least from my experience.
"I think that has to do with why things succeed here," he said. "People are so used to seeing the guy with dreds walking down the street, and in Manhattan they'd be like 'What the (expletive) is that guy doing?!'"
Indeed, dreds are no doubt welcome at a Two Dollar Shoes bluegrass show, white belts at an Archetype rap show, or 40-somethings at a show by high-schoolers Clockwork. Countless other nonstereotypical combinations routinely go unnoticed in Lawrence.
'The elusive buzz'
When Rolling Stone called Lawrence one of the "next Seattles" in the midst of the early '90s grunge era, something special was indeed going on in town.
There were many wildly popular bands in the local pool -- Kill Creek, Baghdad Jones, Nic Cosmos, Salty Iguanas, to name but a few. A couple -- Paw and Stick -- were even snatched up by major labels hoping to sign the next Nirvana or Pearl Jam. There were plenty of venues putting local bands on stage, and there was a devoted fan base that consistently filled the floor.
But those ingredients are arguably still present in town. Veteran rock bands such as The Get Up Kids, Reggie and the Full Effect, Appleseed Cast, The Anniversary, Ultimate Fakebook and Shaking Tree are known nearly as well on the coasts as they are in Lawrence. Local rap giant Tech N9ne seems always to be on the verge of blowing up nationally. And many bands across genres are not far behind -- Approach, The Belles, The Esoteric, Anything But Joey.
Perhaps the crowds aren't quite as consistent these days, said Becker, but that's likely a result of MORE music going on around town and concert-goers having to choose between more options than in the past.
The main difference seems to be that the national media isn't paying attention. Yet.
"Everything ebbs and flows," Becker said. "Everybody only focuses on what reporters decided -- which was that we were the second Seattle. What they didn't realize was what came out of here after that: Vitreous Humor, Zoom, Boys' Life. There were incredible bands that came after that, too. (The scene) just didn't get the seal of approval from reporters on the coasts.
"Lawrence/KC has ALWAYS had an incredible scene," she added. "Was there nothing after Stick and Paw? There were a lot of things. The stuff is out there, it's just a different time and space. It comes down to how people choose what is hip or important."
-- Online entertainment editor Phil Cauthon can be reached at 838-7913.
Copyright 2018 The Lawrence Journal-World. All rights reserved. This material may not be published, broadcast, rewritten or redistributed. We strive to uphold our values for every story published.