A Leavenworth County farmer may owe his life to his cell phone.
Russ Haring, 79, of rural Tonganoxie, was pinned to the ground Monday morning when his pickup truck rolled on top of him, Leavenworth County Sheriff's officers said.
Haring had driven the Ford F-150 to a field gate in the area of 254th Street and Stillwell Road. When he got out to open the gate he apparently didn't put the gearshift into park, Sheriff's Sgt. Charles Yates said.
The truck moved forward, knocking Haring and the gate to the ground, then rolled over Haring's legs and onto his lower stomach, Yates said.
"While he was pinned there he managed to dial up 911 on his cell phone," Yates said.
Two sheriff's officers were able to get to the gate about five minutes after the 911 call, Yates said.
"The truck was still in drive when the officers showed up," Yates said. "They just put it in reverse and backed it up."
LifeStar air ambulance helicopter was called to the scene and flew Haring to KU Med in Kansas City, Kan.
He was in fair condition Tuesday night, a hospital spokesman said.
Haring was conscious and talking when he was placed on the helicopter, Yates said.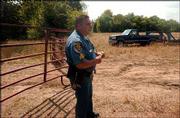 Copyright 2018 The Lawrence Journal-World. All rights reserved. This material may not be published, broadcast, rewritten or redistributed. We strive to uphold our values for every story published.