Kansas, the grape state?
The state's sprawling wheatfields aren't likely to be replaced by fields of grapevines. But there is increasing interest in growing grapes -- and making wine -- across the state.
"I'm getting more calls from people who are wanting to learn more about grapes," said Sorkil Kadir, a Kansas State University professor who manages a one-acre test plot for grapes at an experimental research station in Wichita.
Such interest comes as no surprise to the owners of Holy-Field Vineyard and Winery west of Basehor.
Starting Sunday, Aug. 24, and continuing the next five Sundays, hundreds of people will help Les and Shirley Meyer and their daughter, Michelle Meyer, harvest grapes by hand from some 12,000 vines over 14 acres.
The Meyers, who started their vineyard in 1986 at 18807 158th St. in Leavenworth County, have had a public harvest for the past several years. A different grape is picked each week.
"A lot of people like to come out and pick the grape that they like in their wine," Michelle Meyer said.
Holy-Field, which has won nearly 50 awards with its wines this year in international wine contests, is one of about a dozen vineyards and wineries in Kansas. Leavenworth County also is home to Heimhof Winery and Gift Shop, 25168 Tonganoxie Road.
In Douglas County, Greg Shipe and his wife, Charlee Glinka, own Davenport Vineyard and Winery, 1394 E. 1900 Road near Eudora.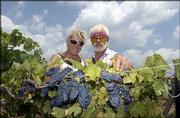 Patty Clark, director of the state's Agriculture Marketing Division, said the state was doing what it could to encourage growth of specialty crops such as grapes across Kansas.
"This is a component of an overall effort by the division to enhance profitability and marketing efforts of Kansas wineries and encourage others to explore similar economic opportunities from specialty crops," Clark said.
Legal restrictions
Norm Jennings, part owner of Smoky Hill Vineyards and Winery in Salina, said changes in state law could help. While a winery often boosts tourism in an area by attracting folks to tour the vineyards and taste its wine, state law hinders additional mail-order sales to customers who live outside Kansas.
Wineries are required to have a liquor license from each state they sell to. Those licenses can run as high as $500, which is not worth the cost for only a case or two.
Holy-Field Vineyard and Winery harvests start at 8 a.m. Sundays and are over in about three hours. The harvesters are then treated to a meal.Interest is so great that Holy-Field limits the number of grape-pickers to 100. Reservations are required; as of last week, only Aug. 31 and Sept. 28 still had openings for pickers.The winery is at 18807 158th St. in Leavenworth County. Call (913) 724-9463 for more information.
Some states' laws allow anyone with a liquor license in their home state to ship into that state, but they must pay that state's sales tax, said Steve Jennings, of the Salina vineyard. Another barrier the law creates for wineries is that they are limited to two additional retail outlets.
"I don't know any other business that has limits to the number of locations they can have," Steve Jennings said.
That could make it difficult for Kansas' unique brand of wine to catch on.
Hardier grapes
Kansas wine is made from different types of grapes than those used in California or European wines, Kadir said. Therefore the taste is different.
Midwest grapes are bred to be hardier, to deal with the region's often-harsh weather conditions, Kadir said.
"Grapes can be grown anywhere in Kansas, even in the west," she said. "They don't need a lot of irrigation. They have very deep roots."
Among the grape varieties turned into wine in this area are Cynthiana, chambourcin and chardonel, to mention a few.
Kansas wines generally are sweeter than California wines, according to Bill Craven, a former Lawrence lawyer who is now an attorney with the California Senate's Natural Resources Committee.
Craven, himself a wine lover, wouldn't say whether the more critically acclaimed California wines were better than those in Kansas. He noted, however, that in addition to experimenting with developing better grapes, California universities also conducted other research and taught many students each year about growing grapes and making wine.
"I think farmers have to experiment," Craven said in a telephone interview from Sacramento, Calif. "It's constantly evolving."
Kadir said she expected interest in cultivating grapes would continue to grow in Kansas as alternatives to growing the standard crops, such as wheat and soybeans.
Other states, such as Virginia, New York and Texas, are starting to produce top quality wines, Craven said. Why not Kansas?
"It's a specialty crop," he said. "It creates a niche market for savvy farmers. It's also a fun product to sell."
Copyright 2018 The Lawrence Journal-World. All rights reserved. This material may not be published, broadcast, rewritten or redistributed. We strive to uphold our values for every story published.