San Jose, Calif. — If Arnold Schwarzenegger seems to be the second coming of Ronald Reagan -- on his way from movie actor to governor -- it's not just because of their Hollywood roots. Other similarities may be crucial between now and the Oct. 7 recall election.
Schwarzenegger's campaign, unlike Reagan's, was instantly defined by the Hollywood factor when he announced his candidacy Wednesday amid a frenzy of media attention on "The Tonight Show With Jay Leno."
Lyn Nofziger, press secretary for Reagan's 1966 gubernatorial campaign, recalled last week that Reagan spent "six months in 1965 going up and down the state seeing if anybody really wanted him."
When Reagan announced he was entering the race, Nofziger said, "The reaction was, 'Ho hum, what's this dumb actor doing running for governor?' There was no hullabaloo at all."
And that points up a major parallel between Reagan and Schwarzenegger, veteran political writer Lou Cannon said.
"I think the thing that's similar is that people may be underestimating him," said Cannon, whose book, "Governor Reagan: His Rise to Power," is scheduled for publication next month. "This guy's a work in progress. I have no idea how he's going to turn out. Reagan was, too."
Fred Thompson, a fellow Republican who went from actor to U.S. senator from Tennessee, said there were other comparisons to Reagan that favor Schwarzenegger.
"It seems to me that there are some striking similarities, even to the point of having other successes than film success," Thompson said.
"Reagan's public advocacy for actors, with the Screen Actors Guild, showed that he had an interest in policies and issues outside the cinema," Thompson said.
"I think that's a plus that Arnold's got going for him. Here's a guy who in large part educated himself from a business standpoint and went on to become very successful in his ventures. He's in large part a self-made man."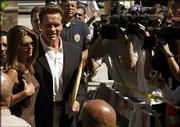 Thompson, who left office and returned to acting on NBC's "Law & Order," noted that Schwarzenegger's familiarity with media attention might not be an automatic edge. The red carpet is one thing; the bloodiness of politics is another.
"One of the minuses," Thompson said "has to do with the expectation game. He comes on dominating the coverage, and he'll probably be considered the front-runner, so any little mistakes he makes in the campaign -- and everyone makes them -- are going to be exaggerated and talked about worldwide.
"And anybody," Thompson said, "who is coming from having been successful all their life, and having had adulation most of their professional life, and having not been through this process before, has to confront a very basic problem: keeping their temper. There will be bad days and the media will be on him, of course, and a person has to keep his equilibrium and have a thick skin."
Cannon, a San Jose Mercury News political reporter when Reagan entered politics, recalled that Reagan received plenty of media attention. But the context was different, Cannon said, because his run for governor had been highly anticipated, particularly by conservatives who considered him the great hope of the Republican Party.
Copyright 2018 The Lawrence Journal-World. All rights reserved. This material may not be published, broadcast, rewritten or redistributed. We strive to uphold our values for every story published.