For 17-year-old Kasandra Williams, benefits to being involved in 4-H include friends, skills building and darn-good ice cream.
The Perry teen was one of six competitors in the goat-milking contest Thursday at the Douglas County Free Fair. She and her family have been raising goats for seven years and brought five of their 15 animals to the fair this year.
Goat milk can be made into dairy products or used as soap. Williams said her family usually fed the milk to their cats, but they sometimes pasteurize it to make ice cream. Williams said ice cream made with goat milk had the regular stuff beat.
"We've made both kinds, and the goat milk is always sweeter," she said.
But getting that milk takes time and work. Williams said she had three does giving milk now, and each one has to be milked twice a day. Her father takes the first shift at 5 a.m. and Williams milks them in the evening.
The work opportunities 4-H provides teach her valuable skills and introduce her to people with similar interests, Williams said.
"It's a lot of responsibility because you have to get projects done on time," she said. "You get to meet a lot of people."
Williams also entered her animals in the dairy goat show competition Wednesday. Her youngest goat, Angel, was champion in the Nubian category. Mindy also won a champion distinction and Emily was a reserve champion. Those are the two highest awards given.
Obedience is important when showing goats, Williams said.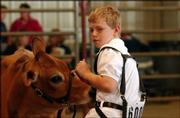 "You have to teach them to walk on a lead and they don't like it," she said.
Williams said when training begins it's best to work with the animals everyday because consistency helps the goats learn.
Carrie Lister, 15, said training sheep for show can be just as difficult.
"You have to work with them a lot so they know what to do," she said.
Carrie's animals competed in the sheep show Thursday. She works with her sheep almost every other day, preparing them for show by teaching them how to walk and set themselves up properly for judging. Carrie said judges also grant more points to sheep with bigger legs.
David Brown, a former superintendent for the sheep portion of the fair, said 136 sheep participated in this year's show. He said while animal numbers have declined for most other types of animals at the fair, sheep numbers have stayed fairly consistent.
Carrie, who is a member of the Eudora 4-H Club, said she also owned a pig and a cow but preferred showing sheep because they were easier to handle.
"Cows are bigger and if they get wild you can't really control them," she said. "With sheep, you can."
Copyright 2018 The Lawrence Journal-World. All rights reserved. This material may not be published, broadcast, rewritten or redistributed. We strive to uphold our values for every story published.