Photo Gallery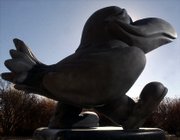 John Brown Jayhawk
Photo Gallery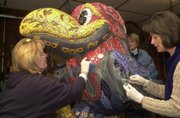 Jayhawks start their Parade
The familiar rifle and Bible are there, just like in the famous mural that adorns a wall at the Kansas Statehouse.
But the yellow beak and feet and blue tail give it away -- the John Brown Hawk is a bird of a different feather.
The latest addition to the Jayhawks on Parade, by a team of artists led by Jim Brothers, was hoisted atop the Lawrence Journal-World building at Sixth and Massachusetts streets Tuesday afternoon.
The work emulates the John Steuart Curry mural of wild-eyed abolitionist John Brown.
"I've always adored that Curry painting over there," Brothers said. "It's such a moving painting, and it's so well known."
The John Brown Hawk was the 26th fiberglass Kansas University mascot to be placed around Lawrence. Four more are scheduled to be finished in the next few weeks. They'll be in place through Nov. 22, the date of the final KU home football game of 2003.
Cesar DuBois, who works with Brothers, came up with the John Brown idea. They also considered turning the Jayhawk into tavern-chopping prohibitionist Carry Nation.
"We wanted something to reflect historic Lawrence," Brothers said. "Most of the people painting weren't looking at the history. We couldn't think of anything better to do."
Brothers picked up the original fiberglass Jayhawk and reconfigured the shape to look more like Curry's mural of Brown.
The end result left the beak, feet and tail intact. The rest is a different bird.
The Hawk emulates the John Brown mural, down to the Alpha and Omega letters on the Bible in the bird's left hand, the rifle in the right hand, the dagger on the left hip and the revolver on the right hip.
Curry's Statehouse mural, one of several painted between 1937 and 1942, was symbolic of the Bleeding Kansas struggle leading to the Civil War.
Though Curry considered it his masterpiece, some legislators hated the work, saying it emphasized two "freaks" of Kansas -- Brown and a tornado, which was in the background. They passed a resolution requiring Curry to stop painting, and Curry never finished the remainder of the rotunda murals he was scheduled to complete. In protest, he refused to sign the murals.
The 150-pound John Brown Hawk took Brothers and his crew more than two months to complete.
"It's fantastic," said Ralph Gage, general manager of The World Company, which owns the Journal-World. "Jim Brothers and his crew did a wonderful job. It was hard to envision what it would look like up there. As it turned out, I'm sure it's the best of all the Jayhawks."
Susan Henderson, marketing manager with the Lawrence Convention and Visitors Bureau, said her office received many compliments about all the Jayhawks in the past few weeks.
"We're getting a lot of reaction," she said. "It's been overwhelming. We're attracting people from not only the city of Lawrence, but outside the city as well. From our point of view, that was one of the goals."
She mentioned only one major vandalism incident -- the "Peace, Love and Daisy Hill Forever" Jayhawk in front of Douglas County Bank, 300 W. Ninth St., had its sunglasses taken over the weekend.
"It's disappointing when something like that happens," she said. "We've been fairly lucky."
However, it appeared late Tuesday that the sole ear on the "Gogh Hawks Gogh" hawk on the 1000 block of Massachusetts Street had been taken off.
The John Brown Hawk was placed atop the roof, in part, to avoid such vandalism. As he prepared to help hoist the bird, DuBois said he was glad to see the finished product.
"I think it's wonderful," he said. "All the hard work paid off."
Locations of the Jayhawks on Parade
1. "A Hawk with a View" by Mike Savage, Sixth Street and Wakarusa Drive.
2. "The Shamrock Hawk" by Beverly Bolton, 2619 W. Sixth St.
3. "Heroic Hawk" by Michael Davis and Tim Bishop, 101 McDonald Drive.
4. Title and artist to be announced, Sixth and Maine streets.
5. "Uncle Sam Hawk" by Winston Lata, McDonald's on the Kansas Turnpike.
6. "Hawk of the Arts" by Megan McNellis, Lawrence Visitor Information Center, 402. N. Second St.
7. "Patchwork Hawk" by Linda Frost, Sixth and Vermont streets.
8. "John Brown Hawk" by Jim Brothers Sculpture Studio Inc., Lawrence Journal-World, 600 block of Massachusetts Street.
9. "Rock Chalk Jayhawk Kubism" by Cathy Kenton, 700 block of Massachusetts Street.
10. "Hot Hawk" by Celia Heintz, 800 block of Vermont Street.
11. "Jayhawk as a Cow on Parade" by Jennifer Rinehart-Unekis, 800 block of Massachusetts Street.
12. "Peace, Love and Daisy Hill Forever" by Susan Younger and Valerie Spicher, Ninth and Kentucky streets.
13. "The Primary Hawk" by Patrik Neustrom, Ninth and Vermont streets.
14. "We Are All Stars" by Barry Fitzgerald, 900 block of Massachusetts Street.
15. "The Marvelous Mosaic Floral Fantasy Joyous Jewel Hawk" by Constance Ehrlich, Karla Nathan and Shanna Wagner, 900 block of Massachusetts Street.
16. "Peacock on Parade" by Karla Nathan and Shanna Wagner, Lawrence Arts Center, 940 N.H.
17. "Gogh Hawks Gogh" by Cathy Ledeker and three Van Go Mobile Arts Inc. teen apprentices, 1000 block of Massachusetts Street.
18. "Chip Off the Old Hawk" by Susie Lawler and Pat Woelk, 15th Street and Kasold Drive.
19. "Mardi Gras on the Kaw Hawk" by Janet Perkins, Lied Center, 1600 Stewart Drive.
20. "So Many Faces, But One Heart That Bleeds Crimson and Blue" by Joanne Renfro, KU Visitor Center, 1502 Iowa St.
21. "Lions and Tigers and Hawks, Oh My" by Doug Barth and Amanda Warren, Hilltop Child Development Center, 1605 Irving Hill Road.
22. "Merhawk on the Kaw" by Sharon Dewey, Jayhawk Bookstore, 1420 Crescent Road.
23. "Bit o' Hawk" by Katie Kring, Jayhawk Bookstore, 1420 Crescent Road.
24. "Mascot Miro" by Susan Younger, Jayhawk Bookstore, 1420 Crescent Road.
25. "Puttin' on the Glitz" by Kathy Drungilas, in front of Allen Fieldhouse, south of the Phog Allen statue.
26. "Whoosh!" by Susan Younger, Adams Alumni Center, 1266 Oread Ave.
27. "Classic Jayhawk" by Katie Kring, Kansas Union, KU campus.
28. "Holy Hawk" by Cathy Ledeker, Kansas University campus.
29. "Kansan" by Vernon Kauffman, Legends Apartments, 4101 W. 24th St.
30. "Abstr-hawk-tion" by Eric Hoins, 23rd and Iowa streets.
Copyright 2018 The Lawrence Journal-World. All rights reserved. This material may not be published, broadcast, rewritten or redistributed. We strive to uphold our values for every story published.