Photo Gallery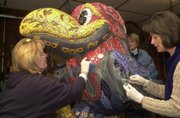 Jayhawks start their Parade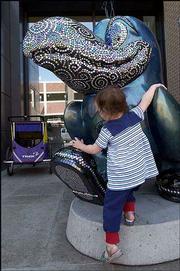 It looked like a Jayhawk -- only not quite.
The sculpture in front of the Lawrence Arts Center in the 900 block of New Hampshire Street was shaped like a Jayhawk. But it was colored a swirling turquoise and inlaid with shiny tiles, and the arts center logo was printed on the belly.
It drew oohs and ahs Friday from children and other passers-by.
"It's really cool," said Tony Carns, who was visiting from Kansas City, Mo. "Somebody had a lot of time on their hands."
Welcome to Jayhawks on Parade.
Two of the 4 1/2-foot-tall, 100-pound fiberglass birds were installed Friday, one at the arts center and the other at the Lied Center. Twenty-eight more -- in a wide variety of styles and colors -- will be installed throughout town Monday.
"Aren't they cute?" said Judy Billings, director of the Lawrence Convention and Visitors Bureau, which is leading the project along with Kansas University.
Ann Evans, director of the arts center, said preschoolers at the center gawked at the Jayhawk when it was installed Friday. They were particularly fascinated with the logo on the belly.
"The preschoolers called it his belly button," she said.
By Tuesday, Billings said, the bureau will have brochures printed up and available throughout the city, pointing Jayhawk-finders to their targets.
"We will get those brochures out to the sponsors, the Visitor Information Center and as sprinkled around as we can get them," she said.
Jayhawks on Parade is modeled after similar public art displays in other communities. Cows were the canvas in Chicago and Kansas City, while Lindsborg featured Dala horses.
Participants say the event is a fun way to bring the community together around a beloved symbol and celebrate art at the same time.
Artists received $1,000 for their work from a pool of $4,500 that companies and individuals paid to sponsor each Jayhawk. When the exhibition ends in October, most of the birds will be donated to nonprofit organizations who can then auction them to raise money.
Billings said she'd received inquiries from KU alumni who want to return to Lawrence to take in the displays. She hopes the exhibition generates new tourism for Lawrence.
"We're getting calls from around the country," she said. "Everybody's so excited."
Copyright 2018 The Lawrence Journal-World. All rights reserved. This material may not be published, broadcast, rewritten or redistributed. We strive to uphold our values for every story published.