New York — When Regina Carter's pianist suggested the jazz musician play Paganini's world-famous violin -- so valuable that it's kept under lock and key in Italy -- she figured it would be a difficult feat to accomplish.
Still, she wasn't prepared for all the hurdles she'd encounter on her way to becoming the first black -- and nonclassical -- artist to play the 18th-century virtuoso's revered instrument.
The Paganini violin is known in classical music circles as "the cannon" because of its loud, booming sound. Bruce Carlson of the Paganini Commission, the violin maker appointed as chief caretaker, was among those skeptical about letting her play the instrument.
Some feared she'd use an amplifier and damage the priceless instrument, crafted by the Guarneri clan (one of the two best violin makers in the 18th century; the other being Stradivarius). Others had heard that she thumped her own violin in performances and worried that she'd use it as a percussion.
"And people thought, 'When she plays jazz on this instrument, it's going to debase the value of the instrument,"' said the 30-something Carter as she sat on the carpet of her Manhattan apartment during a recent interview. "I couldn't believe the stuff."
But after hearing her play at the December 2001 concert in Genoa, Carlson now says: "I would rather give the instrument to Regina Carter than to certain classical musicians, because she treats the instrument with utmost respect."
Not only has Carter made history by playing it, the Detroit-born violinist also has added to its folklore. In addition, it's become part of her own identity; this month, she released "Paganini: After a Dream," an album featuring her playing the violin.
Suspicions of racism
The violin is usually played only by the winners of the famous Paganini competition, so "opposition was quite strong," said Carter's pianist Werner "Vana" Gierig, who came up with the idea, along with friend Andrea Liberovici.
"For any violinist, it's one of the biggest honors you can get," Gierig said.
It was Liberovici who first approached the city of Genoa in the spring of 2001 about the idea of Carter playing the instrument, and Gierig was the facilitator. Both the Paganini Commission, a government agency in charge of the physical upkeep of the instrument, and the Paganini Institute, which is in charge of its legacy, helped make the decision on whether Carter should be allowed to play the violin.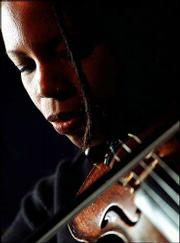 She had to endure a rigorous examination of her skills -- and initial disapproval from traditionalists. "There were obviously howls of protest from die-hard, 'only classical music' types," Carlson said.
Officials in Genoa researched Carter, demanding to know her technical approach to playing the violin and even asking for the name of her childhood classical music teacher.
Carter was suspicious of all the scrutiny.
"I thought, 'These people are being racist,"' she said. "And then Vana told me, 'It's not against you; they even do this with the classical violin players."
"She felt like they were disrespecting her. ... She got really mad," said Gierig, laughing at the memory. "I said, 'You know what? You're right, but who was your classical teacher anyway?"'
In the end, Carlson said, Carter's classical training helped sway officials.
When she arrived in Genoa to see the violin for the first time, Carter said it was "as if the pope, or someone that's really special to you that you really want to meet, is coming and they're surrounded by all these people."
The violin was escorted by armed guards, and when the instrument's caretaker entered the room, he checked the humidity and closed the shades.
It was bigger and wider than Carter's German-made 18th-century violin. But the real difference came after she started playing. "It's got a very warm sound that I really like," she said.
Jumping through hoops
The December concert became a media event, mentioned in publications ranging from The New York Times to O magazine. With all the preconcert hype, Carter became so nervous that she had nightmares of tripping and falling during the concert and breaking the violin.
Instead, the petite, dreadlocked musician played so beautifully, she received standing ovations, and her performance of jazz standards such as "Chattanooga Choo-Choo" and Billie Holiday's "Don't Explain" drew raves.
The concert was so well-received, Gierig proposed returning to Genoa to record an album with Carter playing the famed violin.
Despite her earlier success, to receive permission to play the violin for the album, Carter had to overcome many of the same obstacles, plus a new one: The violin's caretakers would only allow classical music to be played on the album.
At first, Carter considered that to be a roadblock -- but then found a way to adapt. "I'm not going play like a classical player," she concluded. "I'm going to bridge the two worlds."
Her record company, jazz label Verve, balked at a classical album -- and then was unable to finance the entire project.
Verve President Ron Goldstein said it was feared Carter would lose her jazz fans -- and not gain any new ones.
"We definitely tried to talk her into doing something else," he said. But Carter was prepared to do the album without the label's support.
"She was willing to put her own money and her career on the line," Goldstein said.
"I think once they saw that I was doing this with or without them, they came to the party," said Carter. "Paganini: After a Dream" includes crossover-friendly light classics, South American compositions, a movie tune and original works.
Carter says she'd love the opportunity to again play the violin. "In fact, there was some talk about maybe letting the violin travel to New York," and perhaps do a concert, she said.
But Carter said she won't let herself get too excited about the possibility, given all the hoops she had to jump through the first two times. "The disappointment would be too great for me. So I don't even entertain it."
Meanwhile, she's had to adjust to playing her own violin.
"I hear this little sound, and it was like a mouse. And I was like, 'Man, what happened?"' she laughed. "It took me a few minutes to realize, 'Honey, that's just your violin!"'
Copyright 2018 The Associated Press. All rights reserved. This material may not be published, broadcast, rewritten or redistributed. We strive to uphold our values for every story published.