Washington — After falling nearly a dime in three weeks, gasoline prices are expected to keep sliding to a national average of $1.56 a gallon this summer thanks to lower oil prices and optimism about the war in Iraq, the government says.
The Energy Department's statistical agency revised its price forecast sharply downward Tuesday to reflect the recent fall in crude oil prices. But it also warned of uncertainties that could cause prices of both crude oil and gasoline to rebound.
The price of crude, which hit a high of nearly $40 a barrel on Feb. 27, was around $28 a barrel Tuesday on the New York Mercantile Exchange. It has dropped by about 20 percent since the war began in Iraq.
A month ago, before the war in Iraq, the agency predicted gasoline prices would average more than $1.70 a gallon through the summer, hitting 1.76 this month.
Instead, gasoline prices have dropped about 10 cents a gallon during the past three weeks from a high of $1.73 a gallon in early March. The national average was $1.63 a gallon on Monday, according to theEnergy Department's Energy Information Administration.
"I believe we have seen the peak," agreed Kyle Cooper, an energy analyst for Citigroup in Houston.
But he said there were still so many uncertainties -- from the pace of recovery of Venezuela's oil industry and problems with Nigerian oil supplies to questions about Iraqi exports -- that the trend might not hold.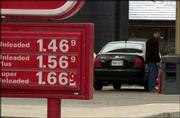 And OPEC producers may pull back on production when they meet April 24 amid their concern over declining prices. The 10 OPEC countries, excluding Iraq, pumped an average of almost 26.34 million barrels a day on March, according to Platt's, , a subsidiary of McGraw-Hill, or 2.4 million barrels a day over their agreed quota.
Government and private analysts noted that overall U.S. crude inventories remain low and gasoline stocks are even lower to where even modest supply problems could cause prices to spike at the pump.
"You still have very tight gasoline inventories and it's going to take quite a while to replenish them," said John Kingston, global director for oil for Platt's.
Guy Caruso, head of the EIA, said the industry faces "an uphill battle to meet (gasoline) inventory requirements" for this summer when demand is expected to increase by about 1.6 percent over last summer.
Because of the tight stocks, the drop in prices is not expected to be as sharp as the drop in crude oil prices.
The $1.56 a gallon national average for gasoline, being forecast by the EIA, is still 17 cents higher than gas cost last summer, but close to the prices that motorists paid at the pump in the summers of 2000 and 2001.
Copyright 2018 The Associated Press. All rights reserved. This material may not be published, broadcast, rewritten or redistributed. We strive to uphold our values for every story published.