New York — Nearly every TV season brings a newly designated "It Girl."
Last fall, Jennifer Garner of "Alias" was clearly "It."
In years before that she was Keri Russell of "Felicity." Jenna Elfman of "Dharma & Greg." Sarah Michelle Gellar of "Buffy the Vampire Slayer."
A title first bestowed on silent-screen siren Clara Bow, "It Girl" had racier overtones 75 years ago.
Now, in the television age, "It" anoints an emerging starlet who by some alchemy of hype, buzz and happenstance seems to lead the pack in fresh-faced appeal ... a gal the whole nation can have a crush on.
This fall, Ashley Williams is a shoo-in with her new romantic comedy, "Good Morning Miami," which airs at 8:30 p.m. Thursdays on NBC.
She plays Dylan Messinger, the pixieish hairstylist for a local morning TV show whose snarky host (played by Matt Letscher) she is dating much to the consternation of the show's just-hired producer (Mark Feuerstein), who is not only Dylan's new boss but also her tormented secret admirer.
And can any viewer blame him? With her larky presence and dazzling smile, Dylan (that is, Williams) is the essence of It-itude.
"They needed a new Fall face," says Williams, flashing that smile gratefully, "and I was right there, with bells on."
Commercials and soaps
Williams, who turns 24 next month, has come a long way since March, when she won the role.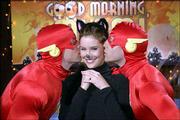 On the other hand, she is no beginner. As a youngster growing up just outside of New York, she staged living-room productions with her brother and older sister, Kimberly (who now co-stars on the ABC sitcom "According to Jim"). "Our parents' poor dinner guests would be forced to sit through our performances," she recalls.
By her early teens, she was appearing in commercials.
Then she managed to juggle her high school studies with a regular role on the CBS soap "As the World Turns."
She played Dani Andropoulos, whom she describes as initially "this really smart girl next door.
"But after six months of doing that, I marched into the executive producer's office and said, 'I think that my character should go through a giant rebellion.' He said, 'Really?' And I said, 'I will do anything! Let's spice 'er up.'
"He renewed my contract and chopped off my hair! Soon I was drinking, drugged my boyfriend and did a lot of lurking in dark corners talking to myself." She was on her way.
Serious study
Completing high school in 1997, Williams left "World" ("They sent my character to Helsinki, Finland") and headed to Boston University's theater conservatory, where "nobody there knew I had been on a soap. For the first time, I was a normal kid."
After college, she spent time at the Williamstown Theatre Festival in Massachusetts and understudied for the off-Broadway hit "The Shape of Things."
See "Good Morning Miami" at 8:30 p.m. Thursdays on Sunflower Broadband channels 8 and 14.
Then last winter, she set out for Los Angeles, where, after landing at her sister's house and borrowing a friend's car, she wangled an audition for "Good Morning Miami."
"In the pilot script, the character is sort of a mystery," Williams says. "So the night before the audition, I made a list of What Did She Really Want, and What Was At Her Core all of the actor's homework stuff I'd learned in college.
"After I read for the producers, they said, 'What did you do to prepare for this audition?' I pulled out my journal and leafed through 67 pages of notes.
"They must have thought, 'Oh, my God, at least she's nerdy enough to commit.' I think that's what got me the screen test."
A half-year and "a mind-boggling miracle" later, Williams is plushly lodged on Must-See TV, not to mention living just a block from her sister (they commute to the studio lot where both their series shoot).
And as she presses on toward long-term success, she's relishing her moment in the "It" Parade.
"A wild ride!" she says, beaming. "I'm really thrilled to have the 'It Girl' spot until the next 'It Girl' comes along."
Copyright 2018 The Associated Press. All rights reserved. This material may not be published, broadcast, rewritten or redistributed. We strive to uphold our values for every story published.