New York — When CBS decided to retool the newsmagazine "48 Hours" for its 16th season this fall, the inspiration wasn't another news show.
Instead, network honchos had "CSI: Crime Scene Investigation," television's hottest program, in mind.
The newsmagazine was retitled "48 Hours Investigates," with a mandate to go heavy on crime whodunits. It was given a Friday night time slot so it could be promoted to the millions of viewers watching the forensics mystery the night before.
It even has a new dark look, with leather-clad host Lesley Stahl and unsmiling reporters filmed for the opening credits on a forbidding New York street in the shadow of the West Side Highway.
"It wasn't broken," said the newsmagazine's executive producer, Susan Zirinsky. "It's just given me a chance to reformat and re-energize as a selling tactic, instead of because of a systemic flaw."
Despite its longevity, "48 Hours" has always seemed like an afterthought in the CBS universe. It never had the pedigree, or the network support, of "60 Minutes" and its offspring, "60 Minutes II."
"48 Hours" proudly calls itself a utility player, willing to switch time periods and produce extra episodes whenever network chiefs had holes to fill. Zirinsky and her staff made 85 separate episodes for the season that ended a month ago.
"There's always the feeling we have to work a little harder," Zirinsky said. "The first two children get the first two portions."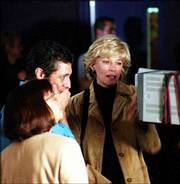 The newsmagazine appears to feed off this underdog mentality with a close-knit, veteran staff. All of its correspondents have been on board for at least four seasons, with Harold Dow there from the beginning.
Another inspiration for changes was the decision by Dan Rather to trim his workload by stepping away as the show's anchor. Zirinsky cast a wide net for replacements, checking out young blood at CBS and elsewhere.
She was impressed by how much Stahl wanted it.
"I have been smiling so much since getting this job that my face hurts," said Stahl, who also remains a "60 Minutes" correspondent.
"48 Hours Investigates" airs at 7 p.m. Fridays on Sunflower Broadband channels 5 and 13.
Stahl broke in at CBS during the Watergate years, and said she loves investigative journalism. She and Zirinsky have a rich history; Zirinsky was a researcher in the CBS Washington bureau during Watergate and Stahl's producer at the White House during the Reagan administration.
"We spent so much time together that our husbands thought we were the ones that were married," Stahl said.
After a slow start in the season's first week, "48 Hours Investigates" hit ratings paydirt Oct. 4 with exclusive tapes showing the police interrogation of John and Patsy Ramsey. With its primary competition, NBC's "Providence," in a ratings decline, the newsmagazine has an opportunity for success.
The single-topic news show has also reported on a Florida psychiatrist accused of having sex with a patient who was diagnosed with multiple personalities, and an Indiana state trooper convicted of murdering his family despite eyewitnesses who placed him away from the crime scene.
Soft topics are out; "48 Hours Investigates" will have no stories about spring break, Zirinsky said.
"I'm not a fluffy girl," she said. "I'm not a girly girl. I'm a hard news harlot at heart."
Copyright 2018 The Associated Press. All rights reserved. This material may not be published, broadcast, rewritten or redistributed. We strive to uphold our values for every story published.