A distinguished art professor and a leading reproductive biology researcher Friday earned the Kansas University Chancellors Club's top academic achievement awards.
Roger Shimomura, who has been teaching art and painting at KU since 1969, received the 2002 career teaching award.
This year's research award went to Paul Terranova, a professor of molecular and integrative physiology and of obstetrics and gynecology at the KU Medical Center. He's been at KUMC in Kansas City, Kan., since 1977.
Both received their awards during the club's 25th annual meeting at the Kansas Union ballroom. They also receive a $5,000 prize.
The Chancellors Club was started in 1977 by the KU Endowment Association. Its membership is comprised of major donors.
The club's teaching award recognizes a senior KU faculty member who exemplifies the university's commitment to instruction.
Shimomura said he strived to be a role model for young artists.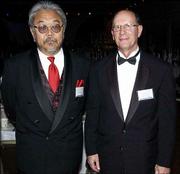 "My most important goal is to put students on track so their art and values in everyday life are similar," he said.
Shimomura, considered a socio-political artist, has staged more than 100 solo exhibitions and more than 300 group exhibitions in the United States, Canada and Japan. His work is in more than 700 private and corporate collections.
The club's research prize honors a KUMC researcher whose work has led to significant scientific discoveries.
Terranova's biomedical research was hailed for its imagination and originality.
"The greatest reward of research is the thrill of discovery," he said. "It has been really fun to progress through this maze of discovery, trying to find something. It's kind of like detective work."
Terranova and his research team are immersed in four initiatives related to ovarian physiology at KUMC's Center for Reproductive Sciences, which Terranova helped found and now directs.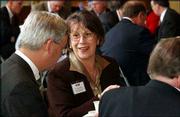 The researchers are hoping to gain insight into the cause and possible treatment of ovarian disorders.
They're exploring the regulation of estrogen in the ovary. Specifically, they're interested in a protein that could be an early indicator of a risk for ovarian cancer.
In a third study, Terranova hopes to discover why cells covering the ovary are more likely to become cancerous than other parts of the ovary.
Terranova also is studying the damaging effects dioxin has on the ovary. This carcinogen is a by-product of industrial processes involving chlorine.
"We have found that dioxin can block ovulation," he said. "This has been a fascinating project, and we've made a lot of advances."
Copyright 2018 The Lawrence Journal-World. All rights reserved. This material may not be published, broadcast, rewritten or redistributed. We strive to uphold our values for every story published.