Havana — Neither political dissidents nor government mouthpieces, Cuba's two most widely acclaimed writers hold a critical mirror up to their country's society, reflecting the differences between the frustrations and failings of real life on the island and the illusory world of government propaganda.
In his "Dirty Trilogy of Havana," Pedro Juan Gutierrez writes about victims and victimizers :quot; thieves, hustlers, drunks, pimps and prostitutes living marginal lives in an urban jungle. Knowing neither friendship nor loyalty, alcohol and sex are their only satisfactions.
In Leonardo Padura's detective novels, the mysteries solved by disabused Cuban police investigator Manuel Conde reveal the difference between declarations of socialist virtue and the vices of a society where almost everyone engages is some kind of illegal activity to survive.
But while Gutierrez and Padura explore Cuban reality in ways few others dare, neither systematically criticizes the island's communist system or its leaders. Though they say they suffer no true persecution for what they write, there are limits they accept.
Gutierrez's internationally acclaimed trilogy, for example, is virtually impossible to find on the island. Published in 1998 and since translated into English, French, German, Italian, Portuguese and French, "Dirty Trilogy" is registered in Cuba's National Library but is unavailable to readers.
Once an award-winning journalist, Gutierrez, now 52, says he was "booted out" of the profession after "Dirty Trilogy" came out.
"I write literature, not political pamphlets," he said in an interview in his rooftop apartment in a dilapidated quarter of Havana.
His powerful, energetic body clad in tank top and Bermuda shorts, his balding head shaved and a serpent entwining a sword tattooed on his right upper arm, Gutierrez acknowledged that his work is "provocative."
'Secret being of human beings'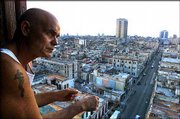 For a year, the "Dirty Trilogy" manuscript slept in the drawers of a Cuban publishing house. Gutierrez finally got it published in Spain. He now survives on royalties from foreign publishing houses.
"Literature exists to reveal the secret being of human beings," he said. "What I have written will last, and future generations will read it."
In 1994, he began writing the 60 semi-autobiographical short stories that compose "Dirty Trilogy" and four novels. Together, they form Gutierrez's "Centro Habana Cycle" :quot; a 1,200-page look at Cuba that belies the images projected by tourist brochures and government propaganda.
Success ridiculed
The self-proclaimed success of more than 40 years of socialist revolution is sometimes ridiculed in the crude language of his stripped, anti-rhetorical style.
"In the tradition of other ribald, earthy, urban authors like Blaise Cendrars, Charles Bukowski and Henry Miller, Gutierrez is an exuberant writer," Karl Taro Greenfeld wrote last year in The New York Times Review of Books.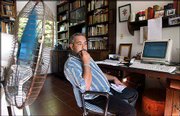 "What Gutierrez ... shares with that gritty crowd is the ability to evoke sensory experience in his prose, and to use the immediacy of that description to make sense of a world that simply doesn't make sense."
Unlike Gutierrez, Padura has been able to get his books published in Cuba. The Cuban edition of his latest novel about Cuban poet Jose Maria Heredia, "La Historia de Mi Vida" ("The Story of My Life"), costs about 80 cents, making it affordable to readers.
But publishing houses are small and there is a shortage of paper, which means a limited number of his books are passed among readers.
An award-winning journalist like Gutierrez, Padura quit the profession in 1996, when he won a $16,000 prize in Spain for "Mascaras" ("Masks"), the third in his quartet of detective novels, "The Four Seasons."
But Padura, who cut sugar cane in the fields and fought in Angola, says he is never invited to lecture at the university. "There are practically no critiques of my books in reviews and newspapers, which are censored by narrow minds," he said.
Openness of mind
"The general tendency of modern Cuban literature is openness of mind, a critical questioning of reality," Padura, 47, said in the book-lined office of his southwest Havana home. "This does not necessarily mean a rupture with the Revolution. The simple fact I live in Cuba is a political statement.
"Many things have to be changed in this country, and literature is another form of political engagement. It is not antagonistic to politics. But its mission is parallel. It enables us to see the problems, even if we cannot see the solutions," he said.
"Padura looks at daily life without preconceptions ... and his cold eye reveals the reality of Cuba," says Haitian poet Jean-Claude Bajeux, a literary critic and human rights advocate who once taught Caribbean literature at the University of Puerto Rico. "From novel to novel, he has become a master of his craft."
For Padura, political isolation and economic hardship are at the root of the Cuban predicament. While the state assures free health care and education, and housing and utility costs are minimal, the average monthly salary of Cuban workers is about $9.60.
The government does ensure a minimum of basic foodstuffs to all citizens each month, but wages often don't stretch to cover other basic necessities, such as clothing. And the U.S. trade embargo also has affected the country's economy, Padura said.
Despite Cuba's problems, both men cannot imagine themselves ever leaving the island.
"I won't leave this place. It connects me to the earth," said Padura.
Copyright 2018 The Associated Press. All rights reserved. This material may not be published, broadcast, rewritten or redistributed. We strive to uphold our values for every story published.