Dana Point, Calif. — States are in a bind when it comes to homeland defense: Nearly every step needed to increase safety requires more cash, and nearly every state is facing a fiscal crisis.
Republican governors say they're looking to the Bush administration for federal help, and soon. But coming from the same political party as the president only goes so far.
"Homeland security is basically hometown security," Utah Gov. Mike Leavitt said at a weekend gathering of GOP governors.
The three-day Republican Governors Assn. conference at this oceanside resort was largely devoted to celebrating the GOP's successes, but the governors also made pointed demands for faster and better federal support for law enforcement and public health needs.
Top Bush administration officials assured them of cash and guidance - but states and cities still would have to do much of the work.
"I see what the governors are doing. I see what the mayors are doing," said Homeland Security Director Tom Ridge. "We are far safer than we were on Sept. 11."
The GOP governors and governors-elect heard from Ridge, former New York Mayor Rudy Giuliani, Health and Human Services Secretary Tommy Thompson, and Energy Secretary Spencer Abraham.
Outgoing Kansas Gov. Bill Graves said his state's projected budget shortfall of $310 million was the worst Kansas had ever recorded and had jeopardized education and social services.
"And now we've got this new kid on the block, this new priority: homeland security," said Graves, who was prevented by term limits from running again. "It simply creates one more huge pressure point."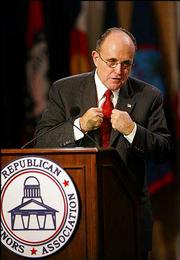 The demands run across all facets of government: police, fire and other first responders; public health agencies; social services; utilities.
The states' most pressing needs, governors agreed, centered on communication and information.
The word of the weekend was "interoperability" - a catchphrase for creating a better communication network for those that respond to an attack, within a state and across state lines. It also means better sharing of information, from local to state to federal agencies.
"CIA, FBI, Immigration, Secret Service, National Security Agency, all these people should be sharing data," said Charlie Weaver, Minnesota's commissioner of public safety, "so when I pull over John Doe and type in his name, what I get is meaningful."
Many pointed to the deaths during the weeks of investigation into the sniper shootings in the Washington area as an example of how things can go wrong in terms of communication and information-sharing.
"Ultimately, we were lucky. But so many clues were missed along the way," said John Thomasian, director of the National Governors Assn.'s Center for Best Practices. "You can spot where it could have been solved even faster."
Copyright 2018 The Associated Press. All rights reserved. This material may not be published, broadcast, rewritten or redistributed. We strive to uphold our values for every story published.