The Improbables have a mantra: Never deny. Always reply. Never ask why.
"Other than that, don't die or barf or defecate on stage and you'll be OK," said Eric Rath, artistic director for the Lawrence improv group.
None of those unthinkably horrifying scenarios came to pass at the group's Friday night performance.
In fact, local improvisers say things like that rarely happen, despite the perception that dreaming up material without a script in front of a crowd of strangers would be terrifying.
That fear is more than a perception, said Dan Spurgin of The Hypothetical Seven, another Lawrence-based improv group, it's very real. But it's OK.
"You're supposed to be afraid," he said. "It's supposed to constantly flush your cheeks. People identify with how scary but how important it is to try it."
Television viewers may be most familiar with contemporary improvisation through the lens of ABC's "Whose Line Is It Anyway?" :quot; the show where "everything's made up and the points don't matter." Host Drew Carey sets the scene and audience members toss out ideas that almost always end in hilarious, unrehearsed skits by four actors.
Local improv players say the idea is the same in their groups, but the outcome is a little more natural.
"That show is funny, but from what I hear, a lot of great improvisers auditioned for it, but they ended up casting a lot of comedians, people who can do a funny line really quick," Rath said. "I try and steer people away from going for laughs, showboating. That's standup comedy. Improv, instead, is not going for laughs but being real in the moment.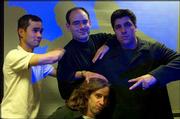 "Oftentimes it's funny, but oftentimes it's just interesting theater."
Be generous
There's no deep secret to improvising, Spurgin said. A few principles serve as good starting points, but experience is the best teacher.
"Yes, and" is one of the basics that gets a lot of mileage with improvisers. Simply saying yes halts a skit's movement and forces one person to come up with all the new material. Saying yes and then adding a new twist is a good habit, Spurgin said.
"That really is very hard to do," he said. "I find myself wanting to do 'yes' all the time. It's scary to do the 'and.' But vigorous confirmation is not really extra."
"Yes, and" goes hand-in-hand with an overriding principle of successful improv: Be generous.
"You're trying to bring glory to your teammates," Spurgin said. "There shouldn't be any mistakes because when you make a mistake your teammates will sweep in and make it look planned."
Hype 7, a Lawrence-based improvisational theater/sketch comedy group, plans auditions from 7 p.m. to 10 p.m. Tuesday at the Westport CoffeeHouse Theatre, 4010 Pennsylvania, Kansas City, Mo. No experience is required.The troupe practices a few hours a week, does live performances on a not-so-regular schedule and works on original film projects. For more information, contact Dan Spurgin at 865-2696 or visit the group's Web site at www.hype7.com.The Improbables, another local improv group, had its most recent performance Friday night at the Lawrence Arts Center, 940 N.H. Artistic director Eric Rath is teaching an improv class at the center that begins Jan. 14. He also plans an improv workshop Jan. 11 at the arts center.For more information, contact the center at 843-2787 or Rath at 864-9470.
Hype 7 started in 1993 when some KU theater students saw a need for an improv group, posted fliers and held auditions.
"They were surprised people actually showed up," Spurgin said.
Most of the founding members have gone on to theatrical endeavors in New York and Los Angeles. Spurgin, who joined the group in 1994, is the only Lawrence player left in the five-member improv/sketch comedy group that stages live performances and does original short film projects. The other actors live in Kansas City.
But Hype 7 is looking to add more members to its ranks. The group will hold auditions from 7 p.m.-10 p.m. Tuesday at Westport CoffeeHouse Theatre.
There's no need to prepare a standup comedy routine. The audition will run roughly like a practice session. Current members will take auditioners through some games they use on stage.
"We'll want to see how comfy people are with being uncomfortable," he said.
Thinking on your feet
The Improbables are a bit younger than Hype 7. Rath founded the group a year and a half ago because he wasn't aware any other improv groups existed in Lawrence. He offered to teach a class at the Lawrence Arts Center, and the performance group grew out of that class.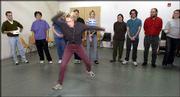 "Improvisation is a heckuva lot of fun," said Rath, who's also an assistant professor of history at KU. "It's dynamic. It's alive. It's vital. It's not necessarily funny, although it often is. And the humor doesn't come from gags, but rather from surprises that grow out of situations based on daily life."
As much fun as improv can be for the improvisers, it's also a unique experience for audiences.
"It's participatory theater," Rath said. "Audience have a say in it. When I see improv, I find that very exciting.
"It's one thing to see improv on TV but another thing when you're actually there and help participate in creating it."
For Rath, not having a script to work with is actually a bonus.
"You don't have to worry about remembering lines. You don't have to worry about remembering your blocking. It frees you up," he said.
And it reminds you of your humanness, Spurgin said.
"For me it really is improv for life in that it's a good way to stretch not just my mind ... but my vulnerability."
Besides, he said, "I think it just sends a good vibe out into the universe."
Copyright 2018 The Lawrence Journal-World. All rights reserved. This material may not be published, broadcast, rewritten or redistributed. We strive to uphold our values for every story published.