Harrisburg, Pa. — President Bush campaigned in three states Friday for Republican candidates linked to him by political ads, a nickname and even an old family feud, underscoring the importance of Tuesday's elections to his presidency.
Barnstorming airport hangars and convention centers four days before the elections, Bush urged voters to back GOP candidates because they stand "squarely with the president." He has shattered fund-raising records and kept an intensive campaign schedule, putting his political stature on the line.
If Republicans lose ground to Democrats, the results will raise questions about his political potency. If the GOP does well, Bush's agenda and 2004 re-election campaign stand to prosper with a friendlier Congress.
In Pennsylvania, Bush campaigned for Rep. George W. Gekas, who hopes to defeat Democratic Rep. Tim Holden with the slogan of, "Let THIS George W. help THAT George W." Despite the familiar nickname, Gekas is one of the GOP's most vulnerable incumbents.
In New Hampshire, Bush came to the aid of Rep. John Sununu in a tight Senate race against Gov. Jeanne Shaheen. Sununu's father was chief of staff to Bush's father until being fired. The elder Sununu received that news from the boss' son, George W. Bush.
Bad blood aside, Bush joked about the elder Sununu at the Portsmouth event, calling him "the old governor" and telling the crowd, "He's still looking pretty spry for an old fellow."
As the laughter subsided, a smiling Bush said, "Don't tell him I said that."
The president's last stop Friday was Kentucky, where he hoped to help Rep. Anne Northup fend off challenger Jack Conway. Northup has touted her ability to bring federal money home to the district, and one of her campaign ads shows Bush praising her at a campaign rally.
Typical of presidential rallies all year, the candidates wallpapered themselves to Bush's side.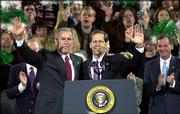 As a crowd of several thousand waved red-white-and-blue pompoms and chanted, "U.S.A! U.S.A!" Northup introduced Bush as "our leader, who is going to keep America the greatest country in the world."
Gekas introduced him in Pennsylvania as "a man who has reached across the aisle, has reached across the oceans" to defend freedom against terrorism. Gekas and scores of other GOP candidates across the country are trying to capitalize on Bush's high wartime approval rating.
A huge American flag as his backdrop, Bush told a largely partisan crowd, "Let's win one for George W!"
That goes for both George W's.
"Bush has put more political capital in this midterm, in terms of time and energy and policy decisions, than any other president in history," said Joe Lockhart, press secretary in the Clinton White House.
Former President Clinton, who rivaled Bush in fund-raising and political activity, was widely held accountable when Democrats lost control of the House in the 1994 midterms.
Bush hopes to help Republicans erase the Democratic Party's one-vote majority in the Senate while retaining the GOP's slim grip on the House.
Copyright 2018 The Associated Press. All rights reserved. This material may not be published, broadcast, rewritten or redistributed. We strive to uphold our values for every story published.