Lawrence residents are checking out books, music and movies from the library in record numbers, director Bruce Flanders says. But patrons complain the Lawrence Public Library's roughly 250,000-item selection isn't big enough.
That's why Flanders is asking the Lawrence City Commission for an $89,000 increase in his books budget for 2003.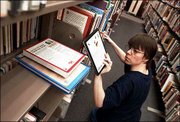 "We have really lagged behind, I believe, in developing our adult library collections," he said Monday. "The better the collection, the better use the patrons will make of our library."
Flanders was one of five department chairmen to go before the commission Monday, the first of three days of hearings on the 2003 budget.
He is asking for an increase in the library budget, from nearly $2.14 million to more than $2.38 million. Most of the requested increase was in employee salaries, but Flanders said expanding the library collection is a critical part of his request.
The library is on track to circulate 750,000 items this year, Flanders said, an all-time record. But it falls short of the million-item circulation of the Ames, Iowa, library, a smaller university city.
"Circulation, as a measure of the quality of our collection, is a criterion we cannot ignore," he said.
A 2001 survey of library patrons, Flanders said in a memorandum, "revealed significant unhappiness regarding the quality and extent of our adult library collections, with particular concern expressed about the inadequacies of our adult fiction and audiobook collections."
The Lawrence library spends about 12 percent of its budget on books and other circulation items, he said. State library standards recommend a minimum of 15 percent which is also the requirement of the Northeast Kansas Library Service, which is giving a $55,000 grant to Lawrence.
"They're asking us to do what we should already be doing," Flanders told the commission. "These are reasonable and prudent steps."
Commissioners offered no comment on Flanders' request They reconvene at 12:30 p.m. today in City Hall, Sixth and Massachusetts streets.
Copyright 2018 The Lawrence Journal-World. All rights reserved. This material may not be published, broadcast, rewritten or redistributed. We strive to uphold our values for every story published.