Fort Leavenworth — A quarter century ago, the oldest active Army post west of the Mississippi River made its 150th anniversary a nine-day celebration with parades and parachutes.
This year, the 175th anniversary came and went without any official notice. Times have changed.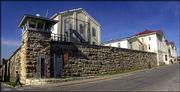 The biggest change, of course, was Sept. 11. What once was a possibility suddenly became heartbreaking reality; what once seemed purposeful felt superfluous.
"Our country is at war, and our attention is in other areas than celebrating our founding," post spokeswoman Janet Wray said.
Kelvin Crow, a historian at the Army Command and General Staff College, agreed this wasn't the time to mark the May 8 anniversary.
"It was just kind of another day in the trenches for us. It seemed unseemly to put on a party when there is a war (going) on," said Crow in his office at the college.
"It was just a normal day for us. We had more important things to think about," he added.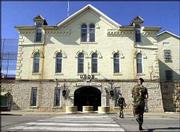 On a recent afternoon, the post with tree-lined streets was tranquil birds singing, wind rustling leaves and the distant laughter of children playing.
The war on terrorism half a world away really isn't that far removed from the minds of the 5,000 service members and families living on the post.
"For most here, it hits home. It's either something your friends are doing or you are about to do," Crow said.
As Crow talked, he sat in his office at the command college, as men and women in uniform walked past his door.
Looking past the door, he added, "There are people who have left these hallways and gone off and gotten shot at in that region over there."
Anniversary plans later
Wray said the anniversary won't be totally forgotten. A lecture is planned sometime in the fall on the history of Fort Leavenworth, which has been in operation since 1827.
The crown jewel at the post is the command college, which has been around since 1881. It's the Army's graduate school for officers from the United States and other nations.
Graduates read like an A-list of generals: Dwight D. Eisenhower, George S. Patton, Omar Bradley, William Westmoreland, Norman Schwarzkopf and Colin Powell.
"We are preparing tomorrow's leaders because the students in class right now will have assignments in support of the war on terrorism," Wray said.
The post also has the Center for Army Lessons Learned, which studies contemporary U.S. military actions from around the world, including Afghanistan.
"They observe operations and take that information to learn what worked well and what worked not so well," Wray said.
Grand '77 celebration
Back in 1977, the Army post's 150th anniversary included musical programs, demonstrations by the Army's Golden Knights precision parachute team and numerous sporting events.
There also was a parade, led by Fort Leavenworth's 1827 Color Guard, dressed in dragoon uniforms of that era, followed by speeches from dignitaries of the day.
The post has 218 buildings on the National Register of Historic Places, the nation's second largest historic district after the U.S. Military Academy at West Point, N.Y.
Many of those buildings remain in use. For instance, the Rookery, built in 1832, still houses officers and families. Next door is a pair of identical houses one of which was home for George Armstrong Custer.
When first built, Fort Leavenworth was the westernmost Army post. With westward expansion, it became the starting point in Kansas for the Santa Fe and Oregon trails.
Even today, deep ruts are visible where countless wagons and settlers trekked from the nearby Missouri River, heading west. Nearby is the U.S. Disciplinary Barracks which has operated at Fort Leavenworth since 1875.
In some cases, history and current events intertwined.
There's the Buffalo Soldier Monument, dedicated to the black soldiers who served in the 9th and 10th Cavalry Regiments. It was the brainchild of Colin Powell, who returned in 1992 when he was chairman of the Joint Chiefs of Staff to dedicate it.
Copyright 2018 The Associated Press. All rights reserved. This material may not be published, broadcast, rewritten or redistributed. We strive to uphold our values for every story published.