Math teacher and coach Brian "Chip" Anderson worked on end-of-year paperwork Thursday before obeying a request that he attend a Central Junior High School orchestra recital.
Thanks to a group of anonymous Lawrence men, all with the first name of Bob, there was more than sweet music awaiting him. Secretly, a prize patrol had arrived at Central to deliver a tax-free $10,000 check to Anderson.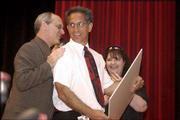 "I'd like to interrupt your concert for just a moment," Supt. Randy Weseman said after the orchestra's opening piece.
The performance, he said, had actually been organized to provide cover for presentation of the distinguished teacher award endowed by the Bobs. They created the prize six years ago to honor Lawrence educators with a special gift for attracting students to learning.
After Hank Booth, trustee of Lawrence Schools Foundation, explained that the winner had taught 28 years, including 15 years in Lawrence, Anderson said he started to understand why his presence had been requested. He knew for certain when Booth said the winner was a math teacher and coach.
"You have a lot of fine teachers at Central," Booth said. "And I wish I could give an award to each of them. But it is my honor and privilege today to present the Bobs' Award for Excellence in Teaching to a math teacher and coach, Brian 'Chip' Anderson."
Anderson, like the five previous winners, struggled to put his feelings into words.
"I don't know what to say," he said. "This is fantastic."
He did take the opportunity to urge Central students to consider a career in education.
Anderson was joined on stage by his wife, Vickie, and daughter, Chantal. Both had kept news of the prize a secret.
"We know how dedicated he is," Vickie Anderson said. "It's nice others know it as well."
Anderson is free to use the money as he sees fit. He couldn't immediately decide how to spend $10,000.
Anderson, a Kansas Master Teacher, has taught math at Central for 15 years and previously taught in New Mexico and Colorado. He's Central's wrestling coach and Lawrence High School's cross country and track coach.
Previous winners were Val Howland, Broken Arrow School; Gary Webber, Southwest Junior High School; Sue Siegfreid, Woodlawn School; Victoria Beals, South Junior High School; and Pam Bushouse; Free State High School.
"They make learning become infectious," Weseman said.
Copyright 2018 The Lawrence Journal-World. All rights reserved. This material may not be published, broadcast, rewritten or redistributed. We strive to uphold our values for every story published.